HONOLULU (AP) — Askia Booker was a man on a mission Monday.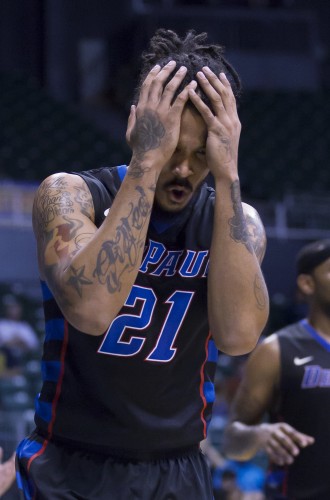 The senior point guard tied a career-high with 27 points and Xavier Johnson added 20 to lead Colorado to an 82-68 win over DePaul  in the quarterfinals of the Diamond Head Classic.
The Buffaloes (7-3) shot 45 percent from the field and led for all but 22 seconds early in the first half.
Booker was 6-of-12 shooting from the field and 14 of 14 from the free throw line. Johnson made 6 of 14 field goals, including a pair of 3-pointers, and hit all six of his free throw attempts.
"I saw something yesterday that kind of pissed me off and it was top 10 point guards. I was not in there," said Booker, who entered the game averaging 14 points per game. "Me being a senior in my last year, I want to put my foot down and let people know, but at the end of the day I have to put my personal issue aside and play for my team."
Booker also grabbed six rebounds and dished out six assists.
"He was terrific," Colorado coach Tad Boyle said. "That's how you want your senior guard to perform, is how he performed tonight, so I was really proud of him. And like I said before the game, when Askia is good, we're good."
DePaul took its only lead at 2-1 just over a minute into the game before Colorado went on a 13-2 run to build a 13-point lead by the 14:40 mark in the first half.
The Blue Demons chipped away at the lead and pulled within 28-25 on Durrell McDonald's layup with 6:30 left. It a one-point game after a pair of free throws by Garrett late in the first half.
"I felt the reason we allowed them to get back into the game was because we fouled too much," Boyle said. "We have to play without fouling defensively and we've got to take care of the ball. We had nine turnovers at halftime. Those turnovers led to DePaul's layups and open shots."
Colorado made its move early in the second half, when it turned a three-point halftime lead into a 16-point advantage within the first 6:22 after the intermission.
The 17-4 run included a pair of 3-pointers — one apiece by Johnson and Booker — and was capped by Gordon's slam dunk off a behind-the-back pass from Booker.
Wesley Gordon added 11 points and Jaron Hopkins chipped in with 10 for Colorado, which was playing its first game in nine days.
Tommy Hamilton IV had 16 points and Billy Garrett, Jr. added 15 to lead the Blue Demons (6-5).
DePaul shot 33 percent from the field and dropped their fourth consecutive game after a 6-1 start this season.
Colorado led at 36-33 at halftime and led by as many as 18 points with 7:49 to play in the game.
___
TIP INS
DePaul: Senior Jamee Crockett was held to four points and remained one 3-pointer shy of sole possession of 19th on the Blue Demons' career made 3-point field goal's list. Crockett has 92 makes beyond the arc in his career.
Colorado: Head coach Tad Boyle now has 99 coaching victories in his five seasons at Colorado. His last coaching stop at Northern Colorado included a Rainbow Classic tournament championship in 2009.
FIRST TIME IN A LONG TIME:
It was only the second meeting between the teams and first since Colorado beat DePaul 50-37 in a NIT semifinal in 1940. This was the first time that either program has participated in the six-year history of the Diamond Head Classic.
UP NEXT:
DePaul plays Ohio in a consolation game Tuesday.
Colorado faces George Washington in a semifinal Tuesday.