Twin Peaks talk New Year's plans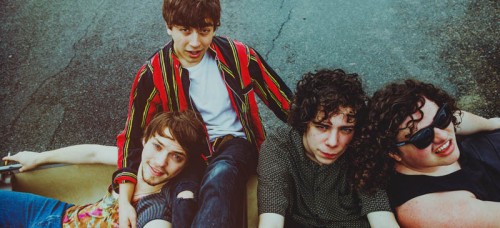 Twin Peaks are Chicago's hometown heroes. Made up of Clay Frankel, Connor Brodner, Cadien Lake James and Jack Dolan, the band started out playing basements and DIY spaces. But following the hype of last year's "Wild Onion," they've warranted positive publicity and played bigger venues. Sunday, Jan. 18, they will be taking the stage at the Metro with a few local bands as support acts. James, vocalist and guitarist, gave The DePaulia a preview of what to expect for the show and for the New Year.
The DePaulia: What neighborhoods are you guys from?
CLJ: I'm from Rogers Park and some of the other dudes are from Lakeview. Chicago is a cool place to be, and Rogers Park is rad.
DP: Continuing talking locally, what were some of your favorite releases from 2014?
CLJ: Oh, man. Ne-Hi, The Lemons. I'm scared to leave anyone out; there were so many great ones. I actually just woke up like 20 minutes ago, so I'm trying to think. Modern Vices just came out with an album this year. I want to say they're like David Bowie, but they're not. They kind of have a David Bowie sound. Petty Crimes is really good; not a lot of people know about them, but they're good. It's hard to say my favorite local releases because there are just so many good bands.
DP: Are you excited to headline a Tomorrow Never Knows performance next Sunday?
CLJ: Yeah, we are. We're playing with them and The Liqs, they're crazy, jumping around and smashing stuff. Then there's Landmarks too. We played Lincoln Hall last year and that's around 500 capacity. We don't expect to sell out the Metro or anything but we're going to try to get as many people there as possible. We want all ages, high school kids and some college kids. Some high school kids are selling tickets at their school.
We're trying out some new things, like playing with a keyboardist. We played a really sloppy intro to that set on New Year's Eve in a house show at two in the morning. It was crazy, but people seemed to dig it.
DP: Besides changing it up with a new set, are you guys planning on making any new music this year?
CLJ: I can't say for sure. Twin Peaks are staying busy for sure. I can't say anything about an album, but we'll have some new stuff and songs. It's pretty up in the air. We were actually in the studio this week. I was there last night, which is why I just woke up. I'm actually heading there again today.
DP: Are you guys excited to tour Europe? You guys are going in February, right?
CLJ: It was crazy being out of the country the first time. It's all crazy ­— feeling like an adult wherever you go, going to places where people don't speak the same language as you. We won't get to see much of the city life, more like the European countryside from a car. We have back to back shows pretty much every night. We only went to London the first time, but this time we have three shows in France and three shows in Germany. I loved seeing everything on the road on the first night of the tour.
DP: Are you traveling on the road then?
CLJ: We're not for sure yet. We haven't planned out that far. Either way, it's just cool to be able to do some traveling and see everything. I definitely want to go back after the shows we play, too. It's kind of hard, we haven't been noticed a lot or anything there yet. We're just starting out over there.
DP: What's your plan for touring the United States?
CLJ: We got some states stuff lined up. It's been crazy, not like blowing up this year but definitely getting some notice by the press and other people thanks to Wild Onion. We are playing SXSW. We've played a ton of shows in Texas. So we'll be doing some festivals and other shows this year. I can't say which ones, but we are playing some.
DP: Do you have any New Year's Resolutions?
CLJ: If I stop smoking by next New Year's I'll be pretty happy with myself. I don't want to say it's a resolution though because I haven't been working on it. I want to follow more of what I preach and just have a good time. I posted a thing about it on Facebook, it's all on there. We just want to have a good time.
DP: Anything else you'd like to add?
CLJ: I know some cool cats at DePaul. Some who are there, some that dropped out. Tell all your friends Twin Peaks are playing.