Jamee Crockett is finally healthy again — and now a threat for the Blue Demons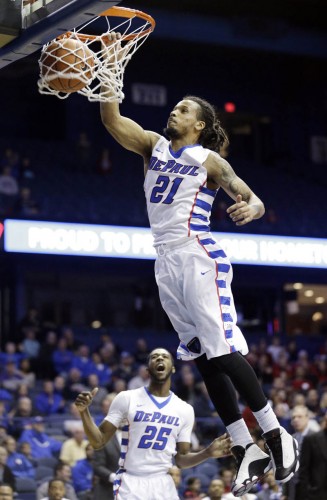 The moment DePaul forward Forrest Robinson knew Jamee Crockett was "back" was one afternoon in a summer practice.  During a scrimmage, Crockett ran the baseline, caught the ball for an alley-oop and hopped over two defenders to put them on a poster.
"Nobody wanted to take credit (for being dunked on), so I'll just leave it at that," Robinson said, laughing.
The move itself requires a lot of athletic ability. To be able to burst and then perfectly time the jump to catch the ball is an impressive feat on its own, which doesn't even include needing enough force to slam the ball over two bodies.
But when asked about it, it's a play that Crockett doesn't even remember. The 22-year-old senior spent most of his summer focusing on rehabbing his right knee after being hurt for the last two seasons.  A once-promising freshman, Crockett's knee injuries hampered him through his sophomore and junior years.
Now in his senior year, Crockett is finally back to what he considers his full health.  And at full strength, Crockett's best is a large reason why the team is clicking so well.
"I got in the best shape of my life over the summer," Crockett said. "That's hard to maintain, but I just focused on eating right. I've been going hard in sprints. It's not that I haven't been going hard, but my knee had been nagging me.
"I try to get those two years out of my mind. It is what it is," he said. "I'm just trying to focus on my senior year and have a career year."
Through 17 games, Crockett is having a career year and has started every game. He's shooting a career-high 47 percent and averaging 11.6 points per game. Both totals are vast improvements to what he averaged last season, shooting 27 percent and scoring 3.9 points per game. Crockett's been a steady fourth option on a team that has shown plenty of balance in scoring the basketball.
More importantly, Crockett's best contribution to the team this year has been his defense.
He's the team's best perimeter defender, often locking down players on the wing. He also relies on his refound athleticism, forcing 22 steals and already tying a season-high in block with 10.
"I've been focusing on my defense," Crockett said. "We have plenty of guys who can score, and my time will come when it comes. It's just heart and will, me willing to do it. I came in here playing no defense, and now I'm one of the best defenders."
There's also a certain maturity that Crockett went through. Through his two years of being limited by a nagging right knee, Crockett said he started to become frustrated.  In his sophomore season, Crockett was bothered by knee pain, but in the following summer, he tore his medical collateral ligament (MCL). Crockett didn't miss games due to that injury by the time the following season hit, but he still wasn't 100 percent.
During his junior season, Crockett was suspended for a violation of team rules — a sign that he wasn't fully mature. He also missed a significant time with mononucleosis, appearing in only 19 of 33 games last season.
However, Crockett said there was a catalyst that caused him to realize that he needed to grow up — the birth of his son. Crockett's son is now two years old and he said being a father has given him a new perspective.
"That can mature you a lot," Crockett said. "It took me from a boy to a man. It taught me to not take advantage of anything because something can be taken away from you as quick as something can be given to you. My son was given to me and that clicked."
DePaul head coach Oliver Purnell has noticed Crockett's maturity. One of Purnell's main points of emphasis with a team is senior leadership and he's gone to Crockett for that.
"I think he's definitely playing like a senior," Purnell said. "Crockett does say things, but he's more of a quiet leader. He sets by example. When he does say things, people listen."
The communication between Crockett and Purnell is there as well.
"I met with coach before practice, and he told me that everybody follows me on defense," Crockett said. "If I'm playing hard on defense, everybody is playing hard on defense."
Crockett's success, however, circles back to his health. On offense, Crockett is now able to slash to the rim and open up shooters on the inside. With three other players averaging double figures, Crockett said that it's a benefit to have so many shooters on the same team.
"It's crucial because they have to guard everyone on the defensive end," Crockett said. "When we go down and play defense, then we can come back quickly and play offense, and they have to guard us. It's real hard to play us."
In. his final season, Crockett said he wants to make a mark with the rest of his teammates. At 3-1 in the Big East, Crockett is now seeing a culture of success that he hasn't seen through his four years.
"It feels great right now," Crockett said. "But we can either be satisfied or keep winning."