Doug Bruno of DePaul women's basketball signs contract extension through 2020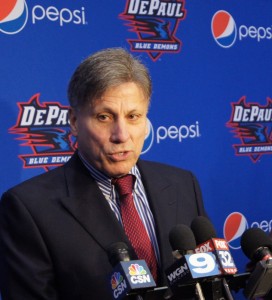 DePaul women's basketball head coach Doug Bruno signed a contract extension through the 2019-20 season, the school announced Wednesday.
This is the second year in a row where Bruno has now signed an extension, previously signing an extension in October 2013 that kept him through the 2018-19 season.  Bruno, 63, is in his 29th season as a head coach at DePaul.
"Very few coaches are blessed to coach at their alma mater, and even fewer coaches are blessed to coach at an institution as great as DePaul University," Bruno said in a news release. "I am blessed to have the administrative support of DePaul President Father Dennis Holtschneider and director of athletics Jeanne Lenti-Ponsetto."
DePaul is 572-306 with Bruno at the helm, including 19 trips to the NCAA tournament. The Blue Demons are coming off their best season since joining the Big East conference, winning the conference and advancing to the Sweet Sixteen.
The trip to the Sweet Sixteen, which included an upset over No. 9 Duke, was DePaul's second trip to the round in three years. Bruno has made three Sweet Sixteens through his career.
Bruno has 31 years of coaching experience as a women's basketball head coach, totaling 612 wins. Bruno spent time in the first women's professional basketball league as the head coach as the Chicago Hustle in 1978 through 1980.
Bruno was a three-year letterwinner for DePaul, playing under Ray Meyer. He graduated with a degree in English in 1973, but returned to DePaul in 1977 as head coach for the women's basketball team.
In the news release, Lenti-Ponsetto said Bruno was "a superb teacher, motivator and technician of the game." She also praised his contributions to his former players and the community outside the game of basketball.
"We are excited and thrilled that future classes of DePaul women's basketball student-athletes will enjoy the benefits of his continued commitment to DePaul women's basketball," Lenti-Ponsetto said.
The terms of the contract were not announced. Bruno made $510,961 in 2011, per DePaul' 2012 forms filed to the IRS.
This is the second contract-extension DePaul has approved this week, announcing a deal for Holtschenider through the 2018-19 academic year.