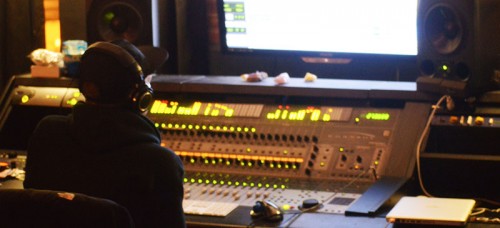 Pacing down Chicago Avenue on a late Monday evening, I tucked myself underneath a roof extension to avoid the cold drizzle from the light rain shower. Wiping specs of water off my phone's screen with my thumb, I scrolled down to my email inbox to confirm that I was at the correct address for Classick Studios, one of Chicago's most popular recording spaces in Humboldt Park.  Soon, Dan Kanvis appeared on a bike and greeted me with a warm smile and firm handshake.
"I'm so sorry to keep you waiting," Kanvis said humbly.
While trying to get inside the building, we encountered some resistance from the security keypad. After trying several different three-digit passcode combinations, Kanvis successfully unlocked the door and we made our way upstairs to the studio. During that mishap, Kanvis calmly demonstrated resilience and patience ­— two traits critical to the success of an independent artist. From paying for studio time, booking legitimate shows and promoting his debut album "Windows," Kanvis has his hand in every aspect. While this could be overwhelming for some artists, the 23-year-old Michigan native has found it rather fulfilling.
"I'm pretty much a one-man team," Kanvis said as we sat at a table in the lobby. "I also have friends who help me out of love and support for what I'm doing. As of late, I've been writing video treatments and directing. "
Kanvis first stepped foot in the city's hip-hop scene by hosting a monthly showcase called "Heavy Rotation."  During his time at DePaul, he experienced difficulties making connections and booking shows other than battle of the bands style events. Once he turned 21, he decided to throw his own show every Thursday at the Tonic Room, in which he did everything from booking artists to making promotional flyers.  Though he ended "Heavy Rotation" to focus on "Windows," the connections he made proved to be vital.
"This album wouldn't be possible if I didn't do 'Heavy Rotation," Kanvis said. "I was able to meet producers, and some were able to help with the album. It was a lot of work balancing it with a full-time job."
One of the artists Kanvis met through "Heavy Rotation" was Daryn Alexus, another Chicago-based R&B singer. She described collaborating with Kanvis on "Windows" as unique, because both are up and coming artists.
"He really believes in artistry as a unit, like working together collectively and supporting each other," Alexus said. "I love how hands-on he was with the track. He knew exactly what he wanted."
In an effort to keep "Windows" cohesive, Kanvis intentionally limited the number of collaborations. Though the majority of the album was made in studio sessions, consistent communication with producers via email also played a large role. Drawing inspiration from hip-hop contemporaries such as Kanye West and Kid Cudi, Kanvis wanted to bring forth elements of reality intertwined with fantasy on "Windows."
"The artists that I've always connected with were ones who weren't afraid to be vulnerable," Kanvis said. "'Don't Leave Me' is the most personal song I've ever written because I say things about my family. I'm a shy person and introverted, so it's pretty nerve-racking to put it all out there, but it's part of the release I like."
That same vulnerability shines through on "Windows," as Kanvis opens up about anxiety for the future and the pursuit of a love interest. Using his own life experiences as inspiration when writing, Kanvis' songs give the effect of an audible journal entry.
"This whole album is pretty much autobiographical," Kanvis said. "I tend to keep my writing really secluded. Until 'Windows,' I've only really started to get in and write with others. It was something I always wanted to do; I just didn't know enough people."
It's now midnight and the studio session is coming to an end. Kanvis is listening to the final cut of "That Drag" while seated in the engineering chair, critiquing every sound wave to make sure what he hears through the headphones is what he imagined in his head. His attention to detail makes for a great sense of self-awareness, which is needed to become a solidified name in the Chicago hip-hop scene.
"For the two years I've been working on this, there was a period of time I hated everything that I made," Kanvis said. "This album is about me trying to figure it out. I don't know exactly what I'm doing yet, but that's the fun part."