An American in Oxford: Where the magic lies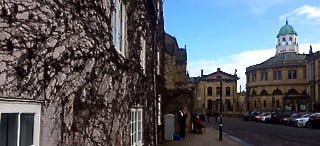 I am not the first person to go abroad. Should you ever choose to do the same, there are times when you will feel a grand connection with all the people who have gone before you.
Sometimes this will come from the awareness that yours is the funny accent in the room. You may find it the first time you try the local food that your grandma insisted you seek out.
Other times it will be found in the less charming moments of inevitable homesickness and stress. When this happens, you must look out of an airplane window and remind yourself that if there exists all this space above the clouds, there is hope for your muddled mind, too. Wait out the ride and rise above it until the seat belt sign is turned off, and you can move about freely. Returning to Oxford after a full six weeks of break provided a similar situation, and I realized that it is the times in which we are faced with obstacles that we are forced to consider how to get around them.
The previous fall term, entitled Michaelmas after the Feast of St Michael and All Angels, consisted of eight weeks of tutorial classes, and yes, many feasts.
These tutorials comprised one-on-one sessions between students and tutors whereupon entering the classroom, the student was required to read their paper out loud while the tutor either listened patiently or interrupted with critiques. I'm not sure which of these responses is more terrifying.
This style has led me to read dictionaries in my spare time, hoping that the knowledge will pour over and into me, so that in the next hour-long session I will, at the very least, have an improved vocabulary with which to defend my argument.
This style, albeit sometimes grueling and nerve-racking, has helped me in my daily life, too. There is always a better word to use; there is always something hidden that you cannot see. And I have enjoyed the search for it.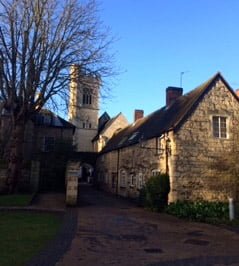 Michaelmas was inevitably filled with all things academic. Tutorials, lectures and readings by guest poets (to whom I listened while jotting down my own verses) filled my hours as I absorbed it all. After the term ended, however, things started to change around me.
Many of the students returned to the states, and I sometimes felt as if I were left standing on the dance floor after the music had stopped. Having lived there for months, Oxford started to lose its enchantment.
When this happened, I was able to understand that losing the ability to see the magic around me, wherever I am, is what true loneliness is. And loneliness is something that most people fear, and so I attempted to understand and challenge its methods. I took the advice of a loved one and began to listen to the tourists on the street rather than shuffle by them. It was they who were seeing the magic for the first time. I wanted that back.
So I decided to find it. I moved to a new room in the older buildings of Brasenose College, where the church tower outside my window reminded me daily that I was in rural England. I found a museum dedicated to honoring children's stories and triple-emailed the employees to ask if I could follow them around for a few months in the name of an internship. I traveled to new cities and spoke new languages. I spent time in pubs and cafes with friends from all over the world, intent on seeing value in every person and every moment.
Writing things down as they happen had the effect of making me feel older and wiser than I am. I imagine myself some day telling these events to a niece or nephew, even though they are happening now. While these tales have value, I have learned that they aren't why I came here.
I did not come for the pictures taken, the new words learned or the sentence that would be added to my resume. I came for the moment when I forgot to take a picture because I was standing atop a cliff looking across an ocean in the direction of my homeland, wondering who I would be when I returned. I came for the tiny moments of magic, that, left unsought, are so easy and dangerous to miss.
Charlie Rose is a DePaul creative writing student, who is studying abroad at the University of Oxford's St. Catherine's College for the academic year.