DePaul's Dining services revamps Lincoln Park dining options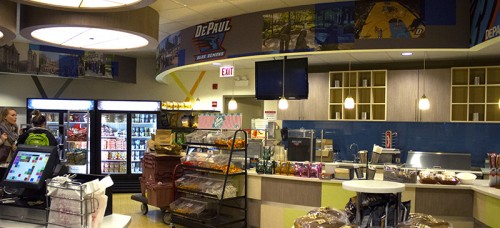 From lobster rolls to apple pie ice cream floats, DePaul's dining services are constantly adapting to new trends. The transition from fall to winter quarter brought about many dramatic changes to the university's food service.
James Lee, district manager of Chartwell's  and chef for 14 years, helped to explain just how and why DePaul's dining hall continues to transform.
Lee uses many mediums when deciding how to improve food at DePaul.
"We do a lot of focus groups and get feedback. For example, once a month, we host a dining with directors where people can come in and talk to us," Lee said.
The Kitchen, which at one point served preset meals, was born after one of Lee's focus groups.
"Students wanted the freedom to pick and choose. So we visited places like Whole Foods and came up with how the kitchen is now," Lee said.
Now, the Kitchen is a self-serve station.
Student surveys are another tool Lee uses to step up DePaul's food game for students.
"It was the first year we have actually done online surveys," Lee said. "Normally we get 200 to 400 responses in our past face-to face-surveys. But going online we got 12,000 responses. It was insane."
Sustainability, health and wellness were at the top of students' lists, and Lee took action to meet those needs. Last fall, LP burger teamed up with a local meat co-op, which pushes sustainable farming and supports local farmers. The dining hall also has more healthy varieties in the salad bar, such as spinach and quinoa salads. However, despite their low nutritional value, the unhealthy foods are still here to stay.
"We will always have traditional favorites like the chicken tenders, but we are going to keep pushing health and wellness," Lee said.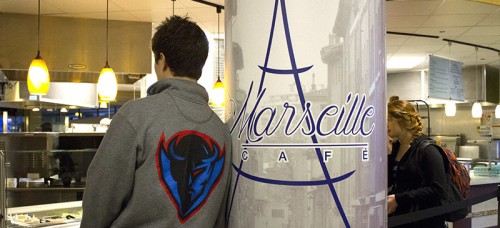 With about 7,000-meal plan swipes per day, DePaul students are quite aware of food changes. Freshman Ben Utter noticed one of the many changing seasons of "Seasons", the restaurant that changes themes most often. Previous themes have included an Asian stir fry, a barbeque joint, and a dessert stand.   
"The week they had lobsters and shrimp was kind of interesting. I think it was kind of far fetched and that's why it lasted like a week," Utter said.
"We did the Harbor Side lobster for four weeks and it just never took off, so we scratched the idea on Thursday and by Monday we opened it up with that big dessert bar," Lee said.
Although the lobster was not a hit for most, the dessert bar seemed to be the opposite.
"I thought that was really fun and would like to see that become stable," Richie Roesner, DePaul sophomore, said.
Whether one loves the changing food or hates it, it is up to students to voice their opinions, according to Lee.
"It is your voices that dictate what we are going to do. Two years ago, students were asking about sushi and we finally found the right company," he said.
Lee even hinted at some more exciting transformations coming to DePaul in the upcoming quarters involving Blue Demon Burger contests and mobile ordering.
"It never stops changing, but that's what keeps it exciting, keeps it fun," he said.