DePaul men's tennis serves up high expectations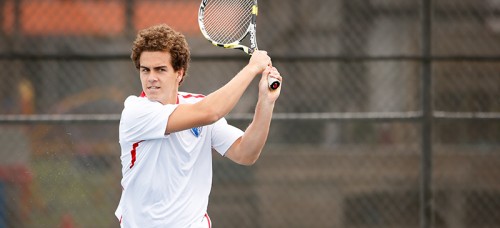 In 2014, men's tennis finished the season 9-5 after starting 2-9 and went all the way to the Big East championship before falling to St. John's. This year, they're looking to build on their strong finish the previous season.
"My expectations are high, as are the guys' on the team," head coach Matt Brothers said. "We've added a couple guys that are in the lineup right now and I feel our team is a lot deeper than in year's past. We're anticipating good things this season."
The expectations include chasing a Big East title and an NCAA tournament bid, both for individual players and as a team. They will look to not only improve off of last year's finish, but also continuously play better through the 2015 season.
"We're trying to pick it up where we left off last year," junior Sten Leusink said. "I think last year the end was the strongest part, so if we can start off like we ended it will be good for us because we'll win more matches at the beginning of the season and doing better at the end of the season, which could result in us winning the Big East."
Leusink took over the No. 1 singles spot from 2013-2014 Big East player of the year, Filip Dzanko. While the spot left by Dzanko is large, Leusink feels that his new position is going well so far.
"I feel pressured to take that spot a little bit but it's a good pressure," he said. "I like it and I have a feeling so far it's going well."
Leusink and his doubles partner, fellow junior Kyle Johnson, are also ranked by the Intercollegiate Tennis Association as the No. 56 doubles team in the nation, which brings an extra set of expectations entering the season. They were unranked in the preseason rankings released in early September, but decent preseason tournaments propelled them into the top 60.
"Once you become ranked, you become a target," Brothers said. "These guys know that and they need to work that much harder to keep what they've got."
The players, however, are ready to meet those expectations.
"Sten and I want to get into the NCAAs and get a higher ranking than 56," Johnson said. "We're happy with 56 but we know we can get higher if we do the right things and let it all fall on match days."
DePaul began the season with a 6-1 win over UIC their first weekend. Leusink and Johnson won their doubles match 6-4 and each of them won their respective singles matches in two sets. The Blue Demons as a whole won five of six singles matches en route to the victory.