Rashaun Stimage's return to DePaul men's basketball gives surge in rim protection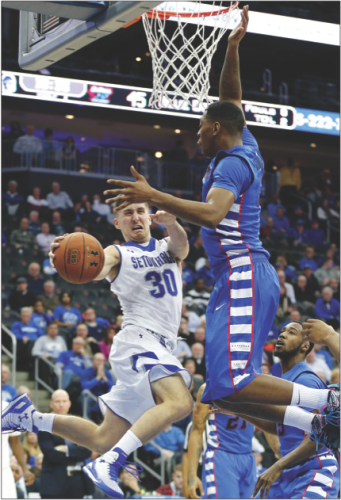 Rashaun Stimage made his DePaul debut Jan. 7 after missing the non-conference season with a broken foot. He played five minutes and picked up a foul in the Blue Demons win over Creighton, their third conference win in a row.
Since then, Stimage emerged as a bench option, making an impact in the paint as he gives the Blue Demons a legitimate rim protector.
"Probably the biggest thing I bring is versatility, being able to guard any position," Stimage said. "It makes us able to be more flexible playing defense as a team."
And there was no one more excited for Stimage's return than his head coach. When Stimage was nearing his return, Oliver Purnell eagerly crossed his fingers and smiled when he let the media know Stimage returned to practice.
"He gives us a physical presence," Purnell said. "He's someone who can score inside and can help us defend a post player."
The 6-foot-8 junior transfer from Daytona State College has become more of an impact on the court and has factored into some of their wins. In DePaul's 64-60 win at Seton Hall, Stimage played 21 minutes and had ten points with seven rebounds off the bench.
"Playing at a crucial time gave me energy," Stimage said. "I wanted to play and I wanted to win so just pushing through being tired and it worked out in our favor."
Stimage jumped into the conference season straight from junior college, which has taken an adjustment period.
"It was definitely tough, the players are stronger and faster," he said. "But I think I adjust well by just staying in the gym extra and doing extra things."
The addition of Stimage made positive impacts on the forwards. He gives them a new piece in the lineup rotation and allows some of the other forwards to stretch the floor more.
"It's huge for us, there are not many guys that can rebound and can block shots like Rashaun," senior forward Forrest Robinson said. "We know that if someone gets beat off the dribble in a game, nine times out of ten it's going off the glass and he's going to go get it."
"The opposing team has to respect him," sophomore center Tommy Hamilton IV said. "They can't double up me because he can finish on the weak side so it keeps the defense more honest."
Depending on who is on the floor with Stimage, the Blue Demons can strategically adjust how their forwards play and whether they want to go more defensive or offensive.
"With Tommy, I give him more room because they have to worry about me on the outside coming across the board, he can have more paint touches," Stimage said.
"It's great playing next to him, playing around an athletic big that can finish around the rim," Hamilton said. "That he can help rebound helps take away some of the pressure from the other bigs."
In the seven games that Stimage has played this season, DePaul has gone 3-4 in the Big East with wins over Seton Hall, St. John's and Creighton on their resume. Stimage has averaged 4.6 points and 2.3 rebounds since his debut game against the Bluejays and also averages one block per game.
With Robinson and Stimage on the floor, having Stimage inside allows Robinson to expand outside of the paint.
"I give him more versatility," Stimage said. "He gets to play out on the perimeter more because I can be the inside post instead of him."