Chugging along: DePaul commuter students face constant delays, rising costs and exhaustion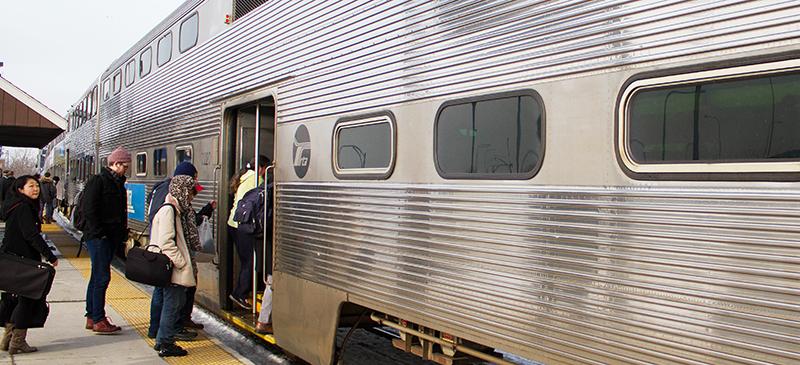 DePaul freshman Dennis Syvongsa wakes up at 7:30 a.m. to get to his 10:10 a.m. composition and rhetoric class. Syvongsa does not know what to expect from the weather, often layering on pairs of thick wool socks and fleece jackets to accommodate the ever-changing Chicago temperatures. He fills his backpack with all the materials he will need for his four back-to-back classes. He won't be coming home until at least 7 p.m., so he must pack wisely, making sure not to forget his assignments or more importantly, his charger.
Syvongsa must be out the door by 8 a.m. if he has any chance of catching the 8:30 a.m. Metra train from Bartlett, a suburb about 35 miles west of the Loop – to Chicago Union Station.
Though he shells out $117 on Metra train fares a month, it still comes as no surprise to him when the train arrives fifteen minutes late. Syvongsa must rethink his schedule. The train will take about an hour and 45 minutes now, so he won't arrive to Union Station until 10:15 a.m. From there, he will have to sprint to DePaul's Loop campus in an effort to get to class no more than a half hour late.
For Syvongsa, at least it isn't snowing. That adds another 15 minutes he can't afford.
According to Commuter Student Coordinator Channon Campbell, more than 19,000 DePaul students commute, approximately 82 percent of the university's student population. Campbell estimates that a majority of students live in the neighborhoods that surround DePaul, such as Lakeview or Lincoln Park. However, students who commute and students who live off-campus face a different set of problems daily.
For students like Syvongsa, getting to class is more than taking the CTA three stops or walking across the quad. The life of a commuter, a student living outside of the city of Chicago, can be a different kind of college experience filled with never-ending days and increased Metra train fares, but it doesn't have to be.
According to James Stewart, assistant director of Adult, Veteran and Commuter Student Affairs, over the last two years, DePaul's Commuter Student Services has grown out of student initiative organizations, becoming an additional department within Adult, Student and Veteran Affairs. Though Commuter Student Affairs has been a part of the department for more than two years, there has recently been an effort to increase commuter student resources. Resources the office provides are programs like Soup in the Loop, DePaul Legal Services and assistance with housing and leasing issues.
"We also have our Adult Student Center which is located in the Loop campus which is open Monday through Thursday 8 a.m. to 8 p.m. and Fridays from 9 a.m. to 5 p.m. and it is open to commuter students to stop in and relax and get a cup of coffee or tea," Campbell said. Most programs and resources the office provides are for both adult and commuter students.
According to Stewart, two of the main needs the office is trying to help commuter students with is helping students find off-campus housing and developing community building activities and events. 
"It's like a hierarchy of needs," Stewart said. "Helping students sort out transit or helping them sort out where they are going to live is fundamental. Then we can start talking about community building and things like that on top of it."

Though Student Commuter Services attempts to cater to the needs of all commuter students, some students find that they lack a strong presence on campus and do not help all commuters. For Syvongsa, he did not even realize all that the department had to offer.
"I know DePaul has a big commuter population, but they should really advertise what amenities' they have for commuters more," he said. "I just found out about locker rentals and the commuter lounge."
Syvongsa also questioned the success community building programs would have for commuter students.
"I know if I'm tired after a long day of class I just want to go home," he said. "It just makes it hard for commuters to get involved sometimes if there's a club meeting that doesn't work with your schedule."
Syvongas' main concern as a commuter is what can be done about Metra fares and transportation rather than finding off-campus housing.
As the agency undertakes a modernization plan, Metra fares increased by as much as 20 percent in some zones starting on Feb. 1. For Syvongas, a one-way ticket from Bartlett to Union Station went up from $5.75 to $6.50. Though he is looking for off-campus housing for the following school year, Svongsa hopes DePaul can lessen his current commuter burden.
"It would be nice if DePaul could do something about the Metra prices, or at least make it so that there's a one way bus to take students to DePaul from Union Station," he said
Many suburban commuters face problems with the Metra train system. According to Stewart, speaking to Metra about college fare discounts is a bigger issue to tackle, but one that should be brought to the forefront if it is affecting DePaul students.
"Metra works fundamentally different then the CTA. The U-Pass can work because there's economies of scale, everybody is paying in. Metra, if you're riding it you probably don't have another option," he sai., "Metra as an organization has less of a rationale to want to do a discount."
For commuters at DePaul, there has been an increase in the number of resources for commuters, but it has not helped lessen the burden of commuting itself. However, many commuters may not realize that they possess the power for change to occur and for their issues and concerns to become part of the conversation. Student organizations like the DePaul Commuter Demons have aided in advocating on the behalf of commuter students.
"There's a lot of power within the students to advocate change. If students are really finding that some resources are only available in the library or on campus, we as an office can say that, but there's just as much power from a coalition of students," Stewart said.
Student voice and input is necessary for Commuter Student Services to advance into an office that can help all kind of commuter students, whether it is looking for off-campus housing in Chicago or seeking help with transportation into the city.
"We can listen and we can have students tell us what our priorities should be," Stewart said. "We are in a place with staff changes and transition where we can do that."