Tyrone Corbin's last stand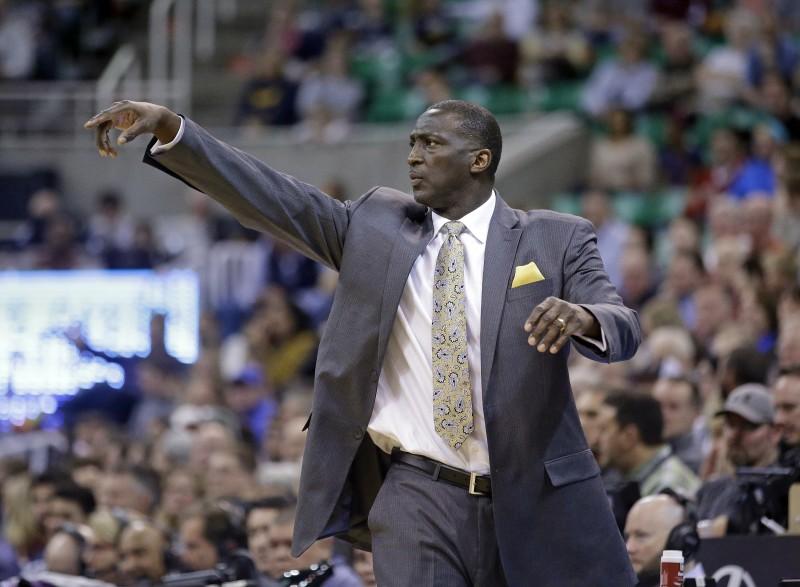 Tyrone Corbin sat in an elevated chair in the United Center hallway before Tuesday's game against the Bulls. The Sacramento Kings coach smiled, thanked the media for coming and then waited for the question he knew was going to be asked.
An awkward 15 seconds of silence passed.
For the last week, Corbin, an interim coach, has dealt with constant inquiries regarding his job status and how he has handled it.
Corbin has almost certainly coached his last two games for the Kings for the foreseeable future as the team heads into the All-Star break after Wednesday's game against Milwaukee. In his second stint as a head coach, the Kings have all but dotted the i's with former Denver Nuggets head coach George Karl.
"I've been in this league for so long as a player and a coach, it's just part of it," Corbin said. "You have to manage it and focus on the task at hand."
And so Corbin and the Kings went out and suffered a 104-86 loss to the Bulls. The Kings fell to 18-33, but just 7-20 under Corbin. Brought in as a lead assistant in the summer, Corbin was suddenly thrust into a head coaching role after the Kings fired head coach Mike Malone on Dec. 15.
At the end of the night, Corbin, who was a former DePaul standout in the 80s, was asked the same question again. This time, the smile was gone and Corbin looked exhausted.
"I've been through a lot in this league, playing in it for 16 years and coaching in it for 12. It's been a difficult time," Corbin said, admitting the process was difficult. "It's part of being in this league. I can't feel sorry for myself. And I can't let these guys feel sorry for themselves."
There's still pride in Corbin's voice, even if it appears he's come to grips with a nearly impossible situation. For nearly 30 years, Corbin's track through professional basketball has led him to constant uncertainty.
That's the nature of the NBA, but for Corbin, it's a resiliency that was further developed 34 years ago, only miles from the United Center, as a freshman at DePaul University. From 1981 to 1985, Corbin played small forward for the Blue Demons during the final years of Ray Meyer's tenure and the first under Meyer's son and successor, Joey Meyer.
"It meant a lot for me to have that experience of being part of the DePaul family," Corbin said. "Coach Meyer and his family were tremendous to me. I learned a lot as a basketball player to growing up as a young man and learning responsibility.
"I learned what it would take to be successful and so all those lessons at DePaul, I carry with me today."
Success hasn't come easy to Corbin. Throughout his 16-year NBA career, Corbin played for nine teams with no stint lasting longer than three seasons. Corbin never knew where he would be or how long, and endured with the support of his family.
"My family has been really strong through moving around over the years," Corbin said. "My wife has been terrific and my two kids, who are older now, have been tremendously supportive."
Corbin said his determination to keep on fighting started with his mother, who balanced working while raising him on her own.
Corbin's resilience was also seen first hand during his first year at DePaul. One day in the middle of the season, Corbin slid down the wall at the old Alumni Hall and tears rolled down his face. Corbin wasn't getting playing time and admitted to then assistant Joey Meyer that he wasn't sure DePaul was the right fit for him.
"I said to him 'Ty, if you keep doing what you're doing, you'll be fine,'" Joey Meyer said. "About two weeks later, he was starting. He was just one of those guys that out worked everybody."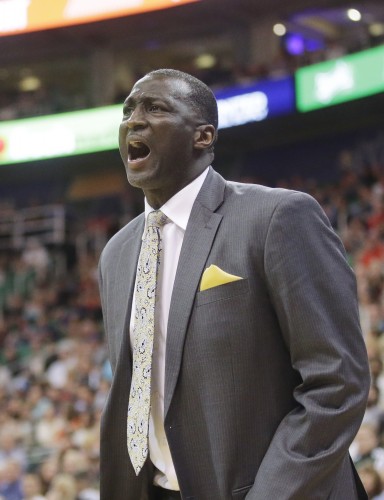 Meyer said Corbin was a fierce competitor. He pointed to a game against the University of Alabama-Birmingham where Corbin initially wore a mask for his broken nose before whipping it at the bench because it was hindering his performance.
"He said 'Screw this, I'm not playing with this (expletive) thing,'" Meyer said. "He was so fun to coach. He just knew the game and was such a tough worker."
Corbin's hard work paid off for the Blue Demons. DePaul enjoyed three trips to the NCAA tournament with Corbin, including going to the Sweet Sixteen in Ray Meyer's final season as head coach in 1983-84.
His results and teachings under Meyer at DePaul, however, didn't necessarily have Corbin thinking about coaching. It was only until after his playing career concluded that he entered the profession.
It was in coaching where Corbin finally found some stability. In 2004, Corbin joined the Utah Jazz coaching staff under the iconic Jerry Sloan, who had coached Corbin from 1991-94.
Corbin was Sloan's assistant for seven years until Sloan resigned in February 2011, following a public dispute with point guard Deron Williams. Suddenly, Corbin was filling the shoes of a beloved coach.
Corbin's results were mixed as Utah's coach. In his first full season, the Jazz made the playoffs, but they were swept by the No. 1 seed San Antonio Spurs in the first round.
The following season the Jazz treaded in mediocrity before committing towards a rebuild in 2013-14.
He entered his final Jazz season with a young roster and only one year left on his contract. Corbin managed just 25 wins and was let go at the end of the season for failing to develop promising forwards like Derrick Favors, Enes Kanter and Rudy Gobert.
"They let (veteran forwards) Paul Millsap and Al Jefferson go, which I think frustrated Corbin a little bit," Aaron Falk, the Jazz beat writer for the Salt Lake Tribune, said. "(Corbin) was really well liked in that organization. He was really well respected, but he wasn't the guy that was going to develop young players. He played (veterans) Richard Jefferson and Marvin Williams over the younger guys, which I think bothered fans and that sort of thing. Ty was very old school and loyal to the guys who worked hard in practice."
Corbin said he learned from his first head-coaching experience. His next opportunity surprised even him. When Malone was fired, it caught practically everyone off guard. Malone had coached the Kings to a promising 9-5 record until center DeMarcus Cousins got hurt.
Reports suggested ownership wanted Malone to coach the Kings a certain style and jumped at the chance to fire Malone when the team started losing.
"It was easier in Utah because there was a set system that I was familiar with for years," Corbin said. "Each team has their own abilities and skill sets. You have to make sure that you're playing to their strengths."
Since taking over, Corbin has pushed for a more up-tempo style to help some of the Kings' younger players. But the switch also has caused plenty of problems, mainly turnovers. The Kings are fourth in the league in turnovers with 15 per game, and it has resulted in terrible transition defense. The Kings are tied for fifth-wortst in defensive efficiency, giving up 106 points per 100 possessions.
Cousins, the Kings' biggest star, is still getting used to the switch in style.
"It's different," Cousins said. "I think it opens up a lot of the rest of the team's game, especially the younger guys' game like Ben [McLemore] and D-Will [Derrick Williams]."
But the speculation around Corbin's fate has taken a toll in Sacramento. Cousins went on a minute-long rant to reporters Monday with an unclear message about how "God gives his toughest battles to his strongest soldiers." Furthermore, Cousins — whose camp has been linked to not wanting Karl as the next head coach — released a statement Tuesday calling the stories a distraction and affirming that he doesn't have any input on coaching hires.
Yet in the locker room post game, Kings forward Rudy Gay insisted that Corbin has been "great about it."
"You have to commend him," Gay said. "What happened at the beginning of the season was a shock to everyone and he handled himself like a professional. He's come in and did the best he could."
If Corbin has coached his final games for the Kings, he still hasn't had time to reflect on it. Instead, he's been busy trying to apply the same principles he observed Ray Meyer doing throughout his years at DePaul — making sure his players are the best they can be on and off the court.
"They're fighting," Corbin said. "Even if we don't play our best basketball, they at least try to fight their way back through it. It's all I can ask of them."