DeBands: Four DePaul bands to watch this year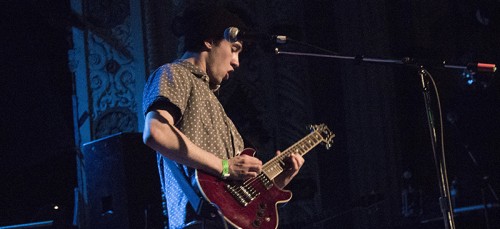 There is plenty of talent hidden in the crowd of DePaul students— and in the city of Chicago, there's bound to be. But when it comes to bands, it's not always easily accessible. A lot of groups based out of DePaul come and go, making it sometimes difficult to find a band with members that are still active. However, after some thorough Bandcamp searching and Facebook researching, a few bands stepped into the spotlight.
Here's an incentive to break the norm of Chicago garage rock. Love Incentive, DePaul's own Michael Basiewicz and New York University's Robert Szmurlo (and also joined by their "good friend, MacBook Pro"), is a two-piece "rock band" with heavy electronic influences.
Basiewicz, a freshman psychology major, said the band is based around "the merger of cold beats and precise electronics with traditional band instruments to give it life."
When asked about the duo's dynamic, Basiewicz described why the band stuck out.
"We're heavily influenced by all kinds of electronic and dance music in general, along with various rock music," he said.
Though half of the band lives on the East Coast, Love Incentive hopes to bring live performances and antics to Chicago in the spring and summer. Fans of late '70s and '80s bands like The Cure and New Order should have an affair with Love Incentive.
There are many prominent topics local political punk outfit Ultrahazard like sto weave into their music, ranging from "feminism, solidarity among artists, class war, roller derby and revolution". They describe themselves as "crack rock steady with less crust and a little pop punk", fitting their quick, intricate guitar chords and ska influenced rhythms. Sam Peiffer (DePaul) is the newest member of the band, joining Violet Staley (Wright College), Eli Raiff (Wright College), Nick Moses (Columbia College Chicago) and Saffron Lehrer.
Each member comes from a completely different musical background, spanning from reggae to jazz, with Peiffer playing trumpet. The band has a list of several shows coming up, with the most recent being a benefit show at Weenie Hut Jr's in Logan Square. A full-length album with the intent of "spreading their political messages to a wider audience" is in the near future, in addition to a tour.
Marmaletta is a five-piece space band that likes to groove. According to the band members (four of whom go to DePaul), the name is based loosely off of the Italian term "Marmalatta" which means, "to jam, but like jam to put on toast."
Consisting of Joey Cantacessi, Cole Hawking, Stuart MacFayden, Evan Weinstein and Ryan Flynn (Lake Forest College), the group doesn't necessarily have many long-term plans except to keep making music. "
We don't like to look too far into the future, that creates expectations," the band said. "We just really want to continue to grow musically and have fun while doing so. We are actually beginning the recording process and will release some new tracks in the coming weeks.
"Other than that, we're going to keep writing tunes, making friends and playing shows."
Marmaletta is also set to headline with support from Sol Shine and Rover at the Abbey Pub on Feb. 25.
Gone Hawking is a dynamic alternative band, first formed by Joe Lendabarker, Max Zuppa and Jimmy Cramsie in 2010. Zuppa (bass and vocals) and Lendabarker (guitar and vocals) are both DePaul freshmen, while Cramsie (drums) is still finishing off high school in the west suburbs of Chicago.
Lendabarker described Gone Hawking's sound as seminal '90s emo, heavily influenced by bands like The Promise Ring or the "We Have The Facts" era of Death Cab for Cutie. Close Quarters Coalition, an independent label from Texas, will be putting out the band's latest release, "Portals & Wormholes."
In addition to their newest EP, Gone Hawking is harnessing enough material to shape up a full length. The LP will hopefully be released in the spring in addition to a smattering of some live shows. In the end, Gone Hawking just wants to create some "memorable pop tunes."