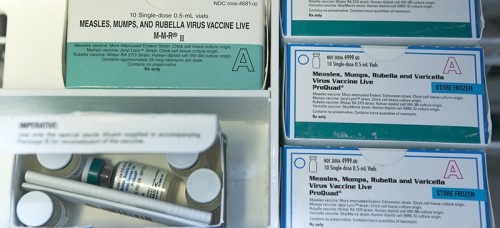 It's a quarterly process. Students meet with advisors, learn which classes are needed, register, pay tuition and repeat. It's straightforward, almost habitual. But that process is interrupted for many DePaul students every quarter as they're met with a hold or warning on their account.
Apart from financial holds, DePaul is required to verify students' immunization records and can penalize those who have not met Illinois' minimum immunization requirements. While most students have to prove they've been immunized, a growing movement against vaccination means some students risk contracting and transmitting certain diseases, such as measles, that have been spreading recently.
DePaul can prevent students from registering for classes and bar them from basic services on Campus Connect if they don't prove they are immune to measles, mumps, rubella, tetanus, and diphtheria, which are prevented by the MMR vaccine and tetanus shot, respectively.
"We are an institution that resides in the State of Illinois and must comply by [state] requirements," said Susan Janick, DePaul's immunization coordinator for the Office of Student Records, in a recent email.
Despite the vaccination requirement, immunization codes allow DePaul to let students enroll without their required vaccinations if they or their parents have religious or philosophical reservations to immunization.
According to the Centers for Disease Control and Prevention (CDC) the "anti-vax" movement is connected with a recent outbreak of measles, a disease thought to be eradicated in 2000. Measles infected 644 people in 27 states last year, and the number of cases continue to rise this year.
A recent non-scientific poll conducted with 162 DePaul students on the Lincoln Park and Loop campuses found that 28 percent of students share believe immunization should be optional to university students.
"It's never good to force anybody to do something they don't want to do, or spend their money on something they don't want," Myles O'Hare, a senior finance major said.
"If you do not want to vaccinate, then you should not have access to public facilities," Dr. Bart Barrett, M.D. a family physician, author, and Christian preacher from Orange County, California said.
Barrett published a viral blog piece on his website in January about one of his patients, a child, who died of measles because his parents had a moral opposition to vaccination.
"The decision not to be immunized is not just a decision that affects the individual in question, it affects the society and people around them that is then exposed to those diseases," Barrett said.
Religious exemptions to medical procedures used to only be a First Amendment protection exercised by small religious groups like Christian Scientists and Jehovah's Witnesses, but the movement has gone mainstream with 119 confirmed measles cases in California as of Feb. 19, according to the Los Angeles Times.
While there are no conclusive statistics about how many Americans believe vaccination is either dangerous or not effective, Google trends show that searches connecting vaccination to adverse side effects reached an all-time high this month. Anti-vaccination-related topics began to be searched in late 2007 and early 2008.
Students at DePaul can request a vaccination exemption in DePaul Central, where students manage financial aid and other enrollment issues. After explaining why they object to traditional means of immunization, students submit the form to the Student Records Office for review.
According to the code stated on the form, "the religious objection may be personal and need not be directed by the tenets of an established religious organization."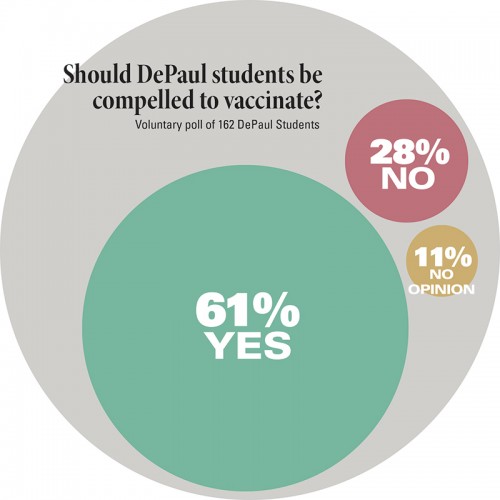 The DePaulia's first attempt for exemption was rejected on the basis that the objection to vaccination was not sufficiently explained. A second attempt, with only a few more lines outlining the student's belief that they had the right to their own body, had enrollment holds dropped and immunization requirements waived overnight.A Supreme Court case in 1905 between the State of Massachusetts and a Catholic family ruled that an objection to compulsory vaccination can only be claimed under the right to freedom of religion, and not out of a fear for the safety of the practice. Illinois's law meets federal protections to freedom of religion halfway.
"There's a compelling obligation to protect citizens from the negligent acts of other citizens," Barrett said.
This gets at a concept known as herd immunity, which is defined by the National Institute of Allergy and Infections Diseases as a point "when a critical portion of a community is immunized against a contagious disease, [and as such] most members of the community are protected against that disease because there is little opportunity for an outbreak."
Concepts like herd immunity justify governments' rationale for allowing some members of the public, like those with weak immune systems or religious objections, to not be vaccinated. However, when a critical portion of society has not been immunized, a communicable disease can spread, mutate, and potentially infect people who had been vaccinated with an older strain.
"There's a lot of people who believe that diseases like measles and whooping cough have been eradicated an think it can't happen to them," Nella Sanders, a special education major said, coincidentally after her  infectious diseases class.
According to the CDC,  measles are transmittable to 90 percent of people who are not immune to it, and that vaccination is 97 percent effective at preventing its transmission. According to the concept of herd immunity, diseases like measles can be eradicated by the sheer statistical improbability of contracting an infection if enough people are immune.
The World Health Organization puts the herd immunity threshold for measles at 83 to 94 percent, meaning that around nine out of 10 people need to be immune to eradicate measles in a given area. The recent outbreak of measles suggests that many parts of the country have fallen below that threshold, though all 50 states do mandate vaccination for most students enrolling in public and private schools.
Halyna Shepko, a clinical herbalist and educator from Hudson Valley, New York said vaccines are not the only way to achieve herd immunity.
"Prior to vaccination, cycles of natural infection added to the herd's immunity," Shepko said. She suggested that a healthy diet, a natural lifestyle, and a habit of breastfeeding after birth help build a child's natural immunity to diseases.
Shepko's main reservation with vaccination is not with their effectiveness, though she doubts that too. She doesn't believe the ingredients are safe to inject into the human body.
"Many people don't realize that all vaccines carry a smorgasbord of ingredients that increase chances for illness and even death," Shepko said.
"Most doctors do not want to question authority or challenge professional organizations and licensing bodies, such as state medical boards, the very organizations that develop and enforce vaccines mandates," Shepko said. "Citizens around the world are easily manipulated by doctors and politicians who are engaging in fear mongering to push forth agendas that have more to do with power and corporate profits rather than health."
The Journal of Pediatrics published a study in July that compared 20,000 studies to find that the side effects of vaccination were negligible compared to the risk of diseases they prevented.
"Elvis is dead. The world is round. Vaccines are safe," Barrett said.