Heading south: Chicago bands continue trek to SXSW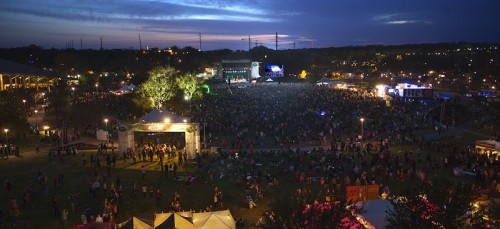 Making the trek to SXSW is still worth it for Chicago bands
More than 1,000 miles separates Chicago and Austin, Texas. But hearing someone attempt to describe South by Southwest (SXSW), the city's annual art and technology conference, makes it sound worlds away.
"I always try to describe South by Southwest to people and the truth is it's just really hard to picture," Kristin Marks, a DePaul alum who now works with the music publicity company Windish Agency, said. "It's not like a festival with barriers and ticket takers and security checks. It's a whole city, and music is everywhere.
Despite the distance, many Chicago bands still flock to the festival, and not just for a shot at the big time. Instead, it's seen as a music incubator and a place to be seen, reunite and have fun. For them, it's this summercamp-meets-convention atmosphere that makes the trek worth it.
What began in 1987 as a local music festival has bubbled into a two-week event spanning film, music and technology. Today, it's part festival, industry conference and commercial spectacle. In addition to official South by Southwest showcases, a smorgasbord of DIY shows and unofficial showcases piggyback off of SXSW's draw. Bands play in clubs, grocery stores, flower shops, pizza shops and parking lots — anywhere with space.
"One of my favorite parties I've ever been to took place inside of an honest-to-god underwear store," said Marks, who has attended SXSW for the past five years and performed there with her band, Summer Girlfriends. "You can be walking down the street and hear a song you know and love and find yourself humming along before you realize it's not someone's car radio, it's that band actually playing that song in that bar across the street."
To a starry-eyed young band, the presence of thousands of music business and media professionals at SXSW sometimes promises a false opportunity to get discovered. But over the years, its focus has shifted and it now caters less to smaller acts. "No one suddenly gets picked up by a huge label after playing that set outside of that weird sandwich place," Marks said.
"It's gotten to this point where these big bands were overshadowing everything," Alex Young, CEO and publisher of Consequence of Sound, said. While his first year in attendance catered more to underground acts, he said it has changed over the past few years.
"It became more of an industry party than a showcase for up-and-coming bands," he said.
More than 2,000 showcasing acts performed in 2014 — not counting those who performed house shows or booked their own gigs — and Young said even catching 80 of these is ambitious. Hotels and travel make it an expensive festival to cover, and not necessarily lucrative. Unlike Lollapalooza and Coachella coverage, a recap of SXSW might not appeal to a casual music fan.
While Young's reporters are planning to cover a mix of up-and-coming and larger performers, the sheer scope requires utilizing their industry resources. They're more likely to cover a sure  bet, like a label or agency showcase, over a house party.
But an off-the-beaten path ranch is exactly where Daniel Perzan will be performing with his Chicago psychedelic rock outfit, Yawn. The band first played during The Fader's showcase in 2011, which came with the pressure to perform.
"When you're doing something like that, there's pressure to be your best because there's definitely somebody out there … in the crowd watching," he said.
Since then, they've attended in different capacities, though he admitted the chaos of teardowns, set-ups and sound checks over a half dozen shows can be nightmarish. With all of the variables at play, sometimes "you get on stage, plug in and hope for the best."
Still, the fairytale stories linger; Perzan said Yeasayer was picked up after performing at South by Southwest. But Perzan said Yawn is just looking to have fun this time at SXSW, which he described as "Marti Gras for hipsters."
This year, he and the label he helped found, FeelTrip, are organizing their own showcase comprised largely of Chicago bands such as White Mystery and Petty Crimes.
"It's a huge, incredible networking space to be a professional businessman, and also go out and party and meet lots of interesting people," Matt Gieser, co-founder of Chicago's Treehouse Records and member of the band Petty Crimes, said. "It's really a kickstarter for what you are going to do for the year."
Gieser's label just launched a distribution company, and his company is expanding immensely over the next year to take on a brewery and restaurant.
"It's just kind of a big communal thing," Gieser said. Beyond escaping the cold, the trip means shaking hands, distributing merchandise and potentially scouting for bands to record between sets.
"You get to see everyone who you haven't seen in a year or so. It's just getting together with other people of the same mindset and trying to do something interesting."