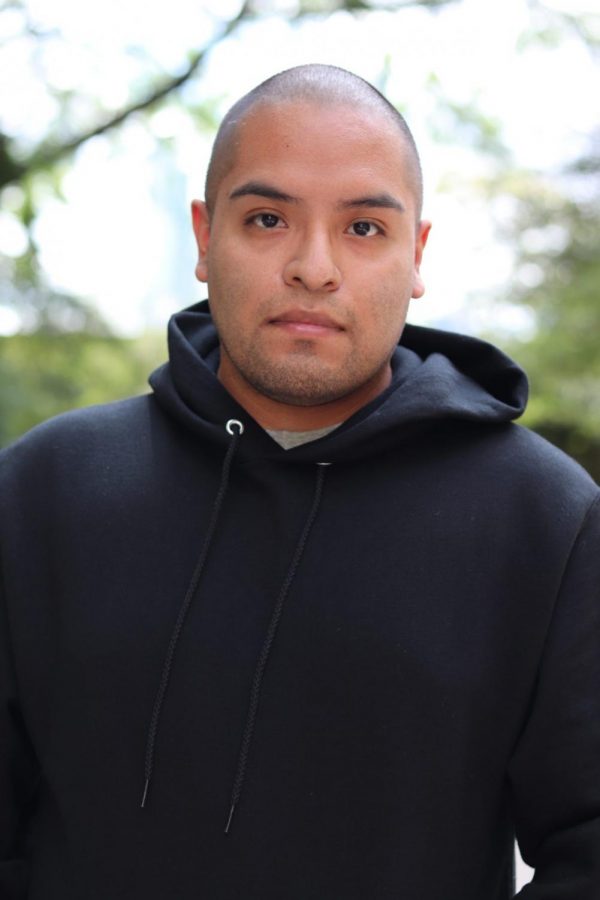 Ernesto Hernandez is the Assistant Sports Editor for The DePaulia. He is a second-year graduate student majoring in journalism. A native of Chicago, his favorite team to watch is the Chicago Cubs. His favorite sport to watch and play is soccer. He owns a very, very small percentage of a second-divison team in Spain, Real Oviedo. He prefers tea over coffee and is a staunch supporter of ketchup on hot dogs .Though he believes a hot dog is definitely not a sandwich.
His favorite hobby includes complaining about sports on Twitter (you can follow him
@ErnestoHdz_). When he's not on social media, you can usually find him scrolling through
Netflix searching for a good documentary to watch.
Ernesto Hernandez, Assistant Sports Editor
Jan 10, 2021

COLUMN: Cubs raise the white flag with Yu Darvish trade

(Story)

Dec 16, 2020

Doug Bruno picks up win No. 725 as DePaul upsets No. 9 Kentucky

(Story)

Nov 15, 2020

Chicago Fire's 2020 season ends in disappointment

(Story)

Nov 08, 2020

Cubs fans grapple with Ricketts' politics, support of Trump

(Story)

Oct 30, 2020

Los White Sox buscan un nuevo gerente después de despedir a Rick Rentería

(Story)

Oct 19, 2020

Nick Foles podría ser la única esperanza para los Chicago Bears

(Story)

Oct 18, 2020

White Sox look for new manager after firing Rick Renteria

(Story)

Oct 11, 2020

Sarah Gorden earns USWNT call up

(Story)

Oct 07, 2020

Cómo Jon Lester cambio la cultura del equipo de los Cachorros de Chicago

(Story)

Oct 04, 2020

Cubs, Sox disappoint in playoff exit

(Story)

Oct 04, 2020

Black Fires find unique way to honor Chadwick Boseman

(Story)

Sep 27, 2020

Cubs looking to recreate magic from 2016

(Story)

Sep 27, 2020

White Sox going into the postseason for first time since 2008

(Story)

Sep 20, 2020

Radio DePaul Sports announces comeback

(Story)

Sep 14, 2020

Roberto Clemente: su legado dentro y fuera del juego

(Story)

Sep 13, 2020

The Chicago White Sox taking a free swing at 2020 season

(Story)

Sep 11, 2020

Las Medias Blancas de Chicago hacen un swing libre a la temporada

(Story)

Sep 06, 2020

Chicago Fire make their long-awaited return to Soldier Field

(Story)

Aug 31, 2020

El Chicago Fire regresa a Soldier Field

(Story)

Aug 21, 2020

DeWayne Peevy se convertirá en el nuevo director deportivo de DePaul

(Story)

Jul 24, 2020

Preview: Cubs look to bounce back after disappointing 2019 season

(Story)

Jun 07, 2020

Jugadores mexicanos en Europa luchan por obtener respeto de su país

(Story)

Jun 04, 2020

What I miss the most: live sports

(Story)

May 28, 2020

COMMENTARY: When it comes to baseball, players, not owners, should get benefit of the doubt

(Story)

May 25, 2020

La pandemia ha traído fin a la cultura deportiva y sus aficionados

(Story)

May 21, 2020

The iconic films of Chicago

(Story)

May 20, 2020

COVID-19 tiene a emisoras de deportes luchando por encontrar nuevas formas de producir contenido

(Story)

May 15, 2020

COVID-19 has sports radio scrambling for new ways to produce content

(Story)

May 08, 2020

La suspensión de deportes recreativos podrá aumentar la delincuencia juvenil

(Story)

Apr 25, 2020

Avoid unhealthy habits associated with binge watching

(Story)

Apr 22, 2020

Chicago Fire lanza redes sociales en español: Lo que esto significa para nuestra comunidad

(Story)

Apr 21, 2020

OPINIÓN: El plan para empezar la temporada de la MLB tiene poco sentido

(Story)

Apr 20, 2020

OPINION: Remote learning model only offers short-term solution

(Story)

Apr 10, 2020

REVIEW: 'Sunderland 'Til I Die' features new ownership but same heartbreak

(Story)

Apr 06, 2020

Fallece Ed Farmer, la voz de los White Sox de Chicago: 'Perdimos a uno de los nuestros'

(Story)

Apr 04, 2020

Congress passes $2 trillion coronavirus relief act

(Story)

Oct 27, 2019

DePaul men's soccer can't capitalize, falls to Xavier 1-0 at Wish Field

(Story)

Oct 20, 2019

Offensive outburst lifts women's soccer over Seton Hall

(Story)