PECOTA kind to Cubs, less so on White Sox
PECOTA projections for the upcoming season.
The projections have the Chicago Cubs going 85-77 and finishing second in the National League Central. The model has the White Sox finishing 83-79 and third in the American League Central. 
Needless to say, this led to quite a reaction.
For those who may not be familiar, PECOTA stands for Player Empirical Comparison and Optimization Test Algorithm. 
"In its simplest form, PECOTA is a projection system that models player (and thus team) performance based on prior production," said Craig Goldstein, editor-in-chief of Baseball Prospectus.
The PECOTA projections are not meant to be viewed as a prediction. As BP's Harry Pavladis wrote, instead "they identify an estimated range of games a team might win and tells you the average of that fairly wide range."
Still, regardless of the disclaimer, it does not stop fans from being upset about where their team might finish at the end of the season.
When it comes to the Cubs and the White Sox, the projections were a topic of much discussion. Primarily because it had the Cubs winning more games than the White Sox and finishing higher in their respective division. 
"I think 85 [wins] is possible, but some things have to go right that are kind of question marks right now," said Tim Stebbins, Cubs writer for NBC Sports Chicago. "It really comes down to the pitching. It's not just that they traded [Yu] Darvish. You're losing veterans like Jon Lester and Jose Quintana. Those two guys are good for 30-plus starts in a regular year."
"You got guys that are getting opportunities to prove themselves but until they do it, that's where you see that projection coming in at 85," he added. "But at the same time, I think people are surprised at it being that high because of those pitching factors."
In addition to losing Lester and Quintana, the Cubs also lost Victor Caratini, Kyle Schwarber and Albert Almora. They did sign the likes of Trevor Williams, Joc Pederson, Austin Romine and reunited with Jake Arrieta, but whether or not the new additions can produce the same results as the ones that were let go is the question.
That is one of the things PECOTA takes into account. It tells you not only the expectation of how a player performs but the probabilities of a player either exceeding or failing to reach those expectations. It's why the projections provide a range. The final number is simply the position a team is most likely to finish in.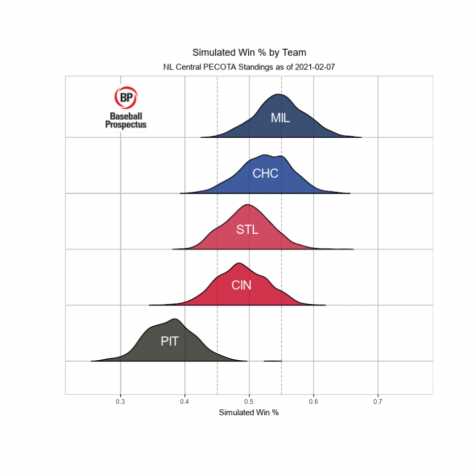 As the graph shows, the Cubs are projected to finish with .525 winning percentage — though there are scenarios where they could end up higher, and they could just as easily finish lower.
As far as the White Sox are concerned, their projections came as a surprise simply because of the players the team has brought in and the general excitement over on the South Side. 
"I think they will finish a little higher," said Chrystal O'Keefe, White Sox writer at South Side Sox and Sports Illustrated. "There is a lot of talent on this roster and the coaching staff that is being added will provide much needed discipline to the younger players. I think Ethan Katz will be able to control players like Dylan Cease and make sure Michael Kopech isn't too rusty."
Trading for Lance Lynn to bolster the starting rotation and signing the likes of Liam Hendriks and Adam Eaton wasn't enough to project the Sox from finishing higher than third. Despite the moves they made, there is a feeling that they could have done better.
"The offseason acquisitions have been lackluster to put it nicely," O'Keefe said. "Recycling players, trading off young talent (Dunning) and bringing back a known locker room pest doesn't bode well when you think about a championship team. La Russa doesn't help the cause either."
That locker room pest is Eaton, whose first stint with the Sox ended with a trade and by some accounts, wasn't that popular to begin with. When he was brought back, he hung up during an interview with sports radio station ESPN 1000.
While the Cubs and Sox play in different divisions, one of the reasons why the Cubs may have a more successful season is because the division the Cubs play is not as strong as the one the Sox play in. Cleveland and Minnesota are likely to be contenders this season despite losing some key players — like Francisco Lindor, in Cleveland's case. Minnesota signed pitcher J.A. Happ and re-signed Nelson Cruz. They won the division last season and are still considered the team to beat.
Over in the NL, Milwaukee has made a couple of signings and it looks like it will be a rebuilding season for Pittsburgh and Cincinnati. St. Louis made one of the biggest trades so far in acquiring Nolan Arenado, but other than that, it's been relatively quiet.
The path to success is more accessible to the Cubs than the Sox in that regard.
While both teams made the playoffs last season, it is immaterial when it comes to PECOTA. Last season does not matter.
"Prior team records don't matter, just what players who are on the current team did," Goldstein said. "Also which stats are sustainable and which aren't."
PECOTA is not the be all, end all. The Cubs were slated to finish in second last season behind the Reds. The Cubs won the division and the Reds finished in third. In the case of the Cubs, if they want to do that again, the remaining core will need to bounce back this season.
"Bryant, Baez and Rizzo are in their contract years," Stebbins said. "Willson Contreras is in his second to last year of club control. These guys are going to be motivated to bounce back. Not to say they weren't motivated last year but especially because they're coming off down years, they're going to be motivated to show that's not who they are."
At the end of the day, PECOTA is not saying these will be the definitive records for Cubs or White Sox. It's a projection that offers people something to talk about during the offseason. PECOTA does not hate, nor is it biased against your favorite team.
"There are also accusations of bias, but it's just a model," Goldstein said. "There are biases towards certain statistics that we find are historically valuable in producing accurate predictions, but not against certain teams. The numbers are what they are."
"Further, we run 1000 simulations to produce our standings, and we provide the distribution of those results below our standings, to provide a better understanding of how this works. People like to focus on one number, which is understandable, but it's never that simple."