DePaul softball won't blame rigorous travel schedule for rough start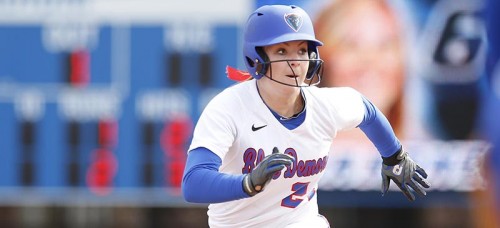 Sitting in the McGrath gym watching DePaul's softball team practice, a spectator would be hard-pressed to think this team sits below .500 in this young "spring" season.
Everyone has a plan, and the entire unit must focus on its individual plan in order to benefit the team in the most efficient way possible.
After a year that saw the program work towards a successful 44-11 season, the Blue Demons dropped their first four contests of the year and now sit at 6-12 after their recent four-game skid in Las Vegas.
Being a team from Chicago, they don't have the luxury of any on-field reps or games within 200 miles of home until later in the season.
This leaves them with just one option; travel to warmer, and in some cases tropical, climates to compete.
"We are road warriors," long-time head coach Eugene Lenti said.
Lenti realizes his teams schedule can get quite hectic. He noted the upperclassmen for embracing the grind and showing the younger players how things are done both on and off the field.
"The older kids show the rest of the team the ropes, and they all fall in line from there."
The team opened their season in Hawaii Feb. 5, falling to perennial power Oklahoma 9-2.
Yes, traveling to Hawaii in the middle of the quarter to avoid sub-zero temperatures sounds ideal for most students, but if you asked these players, there's plenty more to it than just paradise and a few softball games.
Senior pitcher and first baseman Mary Connolly emphasized the advantage she'll have over competitors in the workplace after years of traveling, competing and maintaining her schoolwork.
"I feel like I have an advantage heading into the workplace due to my time management skills," Connolly said.
Not to be overlooked is the senior's performance on the field, as she was named the Big East Player of the Year in 2014, the first player to receive that award from DePaul. 
"These skills are extremely valuable to my career now and down the road," Connolly said. "The travel, the work, and everything as a whole have made that possible, and I am fortunate to have them. With the resources we are given, handling it all is very manageable."
Manageable may be an understatement because these women are thriving in the classroom.
Last year, DePaul posted a 3.575 team GPA, which was good enough for 7th in the country among qualifying Division I softball teams. Mind you, there are more than 120 softball teams that compete at the Division I level.
"All the travel can be tough, but it definitely keeps me on top of my school work and creates good habits," freshman pitcher and outfielder Megan Leyva said.
"There are some girls on the team that I played with back home, so having them here keeps us all focused. It's like I brought a piece of home here with me."
The discipline comes naturally under Lenti's direction, who's entering his 34th season with the team.
The Blue Demons are fortunate to play at a high level of softball in a NCAA power conference, but the sacrifices they make in terms of their lives away from school and softball cannot be overlooked.
They've worked to get to this point, and they must elevate their work ethic to stay at this level.
The team will play in five tournaments before the start of conference play on March 21 in New York. Each trip will require shuttle buses, flights and focus.
Excluding any connecting flights, the team will make 10 total trips through the air and play roughly 30 games before getting to play on Wish Field in late March.
The Demons returned to Chicago Feb. 8, before heading to Houston, Texas four days later for their second string of games. The midterms they were to take with the rest of their contemporaries were either done on the road or completed prior to their departure.
The logistics and itineraries would only intensify as the team headed back to Texas last week, this time traveling to Arlington for a five-game stretch.
The Demons went 3-1 on the trip, with their last game being cancelled on Sunday afternoon due to inclement weather.
Balancing priorities is a large part of the college experience.
Playing softball at DePaul takes those priorities to new heights; heights that these women are more than willing to venture to.
"Some days I really have to tell myself that I can't do anything until this homework is finished, and I do just that," Leyva said.
"I make a list of what needs to be done and go down that list until it's complete. It helps now, and it will certainly help in the long run."
Discipline is the key with this bunch, and if you happen to know or meet some of them on campus, you'll learn that rather quickly.