Commentary: DePaul men's basketball should pursue Ben Howland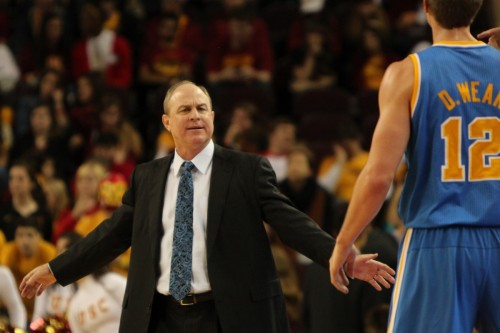 When Oliver Purnell was hired as head coach of DePaul men's basketball, his notoriety was as a program rebuilder. He was never able to get the job done at DePaul, but the line of thinking in his hiring was correct: Find a coach who has history of proven success.
There is a coach without a job at this point that not only has a history of building up programs, but also of taking them deep into the NCAA tournament. This man has coached players such as Russell Westbrook, Kevin Love and Jrue Holiday, and can bring that resume to DePaul.
The next coach DePaul should consider hiring is Ben Howland.
Howland has been to the top of the top. In four years at Pittsburgh University, he won the Big East regular season championship twice and went to the Sweet Sixteen twice. In his ten years at UCLA, he went to the Final Four three times in consecutive seasons and held a record of 233-107.
He also has a history of quick turnarounds. He took Northern Arizona to the NIT in his third season with them, Pitt to the NIT in only his second season with the Panthers and in his second season with UCLA he returned them to the NCAA tournament after a three-year absence.
His tenure at UCLA was tumultuous in the latter half, to be fair. He missed the NCAA tournament in 2010 and 2012 before exiting in the first round of the NCAA tournament in 2013. However, he still went 25-10 in his final season with the Bruins, showing that he was still able to recruit and coach well even in his final season.
The biggest point towards hiring Howland would be his recruiting prowess. At UCLA, he had the number one recruiting class in 2008 and 2012 according to ESPN. Now, DePaul doesn't exactly carry the same weight as UCLA does when it comes to name brand, but Howland can bring a name in himself to the table.
Chicago is a very fertile recruiting ground and if DePaul can attract a coach that can walk into any of the area high schools and show potential recruits names like Russell Westbrook, Kevin Love and other players in the NBA that he has coached along the way, then maybe players like Cliff Alexander, Jalil Okafor and Jalen Brunson will actually consider staying home.
While Howland would not have the same sorts of connections in Chicago as he did in Los Angeles, he has still been able to recruit at other places in his career and could possibly use his Southern California prowess to get some of those recruits to DePaul.
One of the possible downsides of Howland is his cost. A three-time Final Four coach is not going to be cheap and he was making around $2 million in his final year at UCLA. However, a coaching hire at this juncture has to be seen as an investment. With the new arena ready in the next couple of seasons, DePaul is going to be at the center of focus in the Chicago college basketball landscape. If the Blue Demons can take advantage of the eyes looking at them and parlay on-court success to the arena momentum then they are going to have a good chance at rebuilding this program.
The time right now is not to take on a hungry assistant coach who might be the right person to turn the program around. This is a very opportune time change the pace of the program because success breeds success. There will be times later down the road when the time is right to take on a fiery assistant just beginning to make his name in the college basketball landscape, but right now DePaul needs to get back to respectability.
Success breeds success, and there's no better available coach at breeding success than Ben Howland. He is the right move at the right time and DePaul would be foolish to not pursue him.