Eighty-one votes separate Ald. Michele Smith, Caroline Vickrey in 43rd Ward race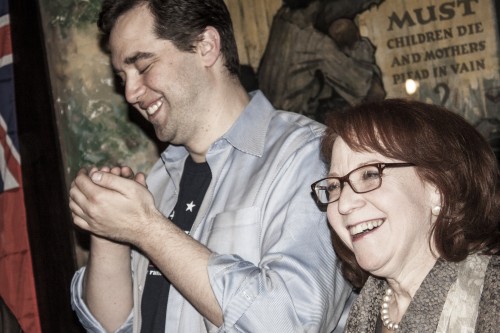 The contentious race for 43rd Ward alderman did not conclusively end election night, but Ald. Michele Smith now leads the 43rd Ward race against challenger Caroline Vickrey by 81 votes as of Friday morning.
Unofficial election results on the Chicago Board of Elections website show Smith with 7,170 votes, compared to Vickrey's 7,089 votes.
Throughout Tuesday night, the results trickled in and mainly fluctuated near 50 percent. The excitement level was high through most of the night at Vickrey's party at Fairways Bar in Lincoln Park, as the results showcased a race that was even more competitive than anticipated.
"I literally have no idea what is going to happen, there are so many unknowns and I feel good about the campaign that I ran, and that's all I know," Vickrey said at the beginning of the party.
Conversely, the mood for Smith's party at the Red Lion Pub seemed pensive at best throughout much of the night, only lifting later as Smith's victory chances seemed less uncertain.
"When the lead dropped from 51 to 50 percent (during the night), I can't lie and say I didn't feel a good amount of shock myself," Jeanine Moon, a DePaul senior and an intern for Smith's campaign, said. "I think it's safe to say most of us feel that way. I thought it would turn out to be a very evident election victory, that Smith would have a good lead later through the night. Clearly that is not turning out to be the case."
Surprise over the neck-to-neck nature of the race was not unwarranted, especially considering the perceived successes of Smith's campaigning efforts.
"I spoke to a lot of undecided voters about Smith's ability to make difficult decisions, and people seemed largely receptive," Mike Papanicholas, a DePaul student and Smith intern, said.
Doug Farley, a field organizer for Smith's campaign, hypothesized on the particularly competitive nature of the 43rd ward race.
"The 43rd ward, in particular, is very hard to please; the last elections here have also been very close. I think the alderman here may be much more accountable than that of most other wards. People here are very aware and involved in the community, and there's 12 neighborhood associations (in the neighborhood) that all have very active followings,'" he said. "With something like the development of the (former) Children's Memorial hospital (a particularly contentious issue between the candidates), we're looking at what should turn out to be a great new development plan. Obviously though, there are immediate neighbors in the surrounding blocks that aren't going to be happy, and some of them may have preferred to see townhomes or quieter development along the lines of that. It's a very galvanized public that is ready to decry anything that doesn't meet their exact standards."
With voting precincts being counted for, supporters of Vickrey cheered in unison as they examined the results, which were much closer than originally predicted. The thrill over the possibility of victory remained high.
"There is so much adrenaline going on, everyone is just feeling it right now," said Steven Bugarin, a photographer for the campaign as well as a supporter.
As well as excitement, there was a high amount of dedication and support voiced for Vickrey.
Madison Springhetti, a Vickrey campaign volunteer, said, "For me, just meeting her this morning, on election day when she is running to different activities that she had for today, (she) still looked at me, this random volunteer and said 'Hi, nice to meet you, thank you so much for being here!' She was very friendly and instantly I knew she was someone I was very comfortable supporting as a candidate."
Toward the end of the night, the anticipation became higher. "It's still incredible, I'm still proud. I have a really good feeling, but I don't want to jinx myself!" said an excited Vickrey.
Smith's camp, similarly, expressed higher confidence by the end of the night once they could more reasonably anticipate her likely re-election.
"To all of you people, from the proud parents, to the local business owners, to the people who cared about this community for so many years, we are winning tonight," Smith said in her press speech late in the night. "There are still votes waiting to be counted, but I am confident that I am going to be representing you for the next four years … The people in this ward have a lot of opinions, but we must look at the opinions of the voters. It seems (they) have said they want me back for the next four years."
The election remains so close, however, that it is likely a candidate will contest the results, which will not be certain until later Wednesday. Vickrey's camp refused to concede defeat until the results were finalized.
Smith claimed however, that regardless of the outcome of the race, she would continue to support the ward and potentially collaborate ideas with her former opponents upon her likely victory.
"As we've said, the objective now is to bring the ward together and to move forward," she said.
As of midnight, Smith led the election by 98 votes.
View Comments (5)