The rise of fantasy sports
From friendly competition to a gambling outlet, fantasy sports continue to rise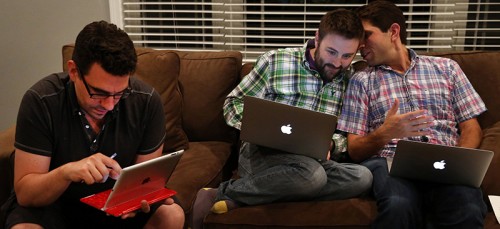 The Buffalo Wild Wings of Danville, California was particularly segregated on December 29, 2014. There were two factions in the restaurant that night: those who cared about fantasy football, and those who did not.
One cluster of eaters gathered around two trophies. The first was a beautiful, multi-colored, multi-platformed homage to the classic championship trophy, garnished with a victorious chrome football player on top. The second was simply gigantic. A well-formed mannequin derriere mounted on a plank of wood.
Both trophies were to be awarded that night, and Brendan O'Donnell was in contention.
"There is nothing I'm more passionate about than fantasy football," O'Donnell said. "It combines football, which I love, and proving that I'm better than my friends, which I love."
O'Donnell, his opponent and the rest of his fellow league members gathered to rejoice in the joys of fried chicken, football, camaraderie and the Monday Night Football game that would dictate the outcome and history of their league.
The actual game between the Cincinnati Bengals and the Denver Broncos meant nothing to anyone eating with O'Donnell and probably anybody else there. The real-life impact on O'Donnell and his league "The Don Squad," a tribute to their high school mascot, was fantasy. The individual performances of the NFL players are what were truly important.
Fantasy football pits two owners against each other in weekly matchups during the NFL season. Each owner selects their teams at the beginning of the season through an auction process, where owners buy the best few NFL players in order to assemble their teams, or through a draft process, where owners alternate selecting the best few NFL players in order to assemble their teams.
O'Donnell's opponent owned the Bengals running back, Jeremy Hill. When Jeremy Hill broke free of the Broncos defense to score a spectacular, career-best 85-yard touchdown, the dining area erupted, led by Jeremy Hill owners at every table, who received points for his performance. O'Donnell, in the midst of it, sat deflated with self-doubt slapped across his face.
Despite the effort of Jeremy Hill that night, O'Donnell and his own team, "Jordy Shades of Grey" led by Packers wide receiver, Jordy Nelson, triumphed over the opposing team. O'Donnell, "Odie," had won his first championship.
"It was the greatest moment of my life," O'Donnell said.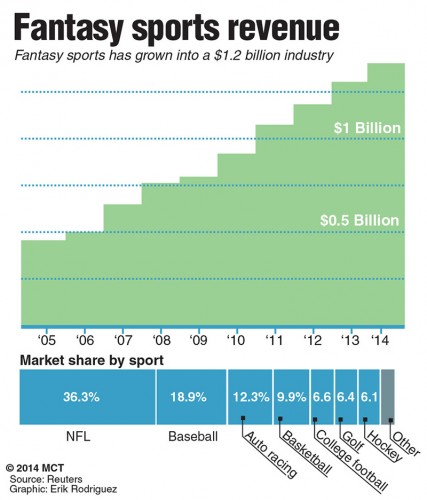 O'Donnell and The Don Squad are riding the tidal wave of interest in fantasy sports. What began in the '80s as just a "Silly Little Game", according to one of the creators of fantasy baseball, Daniel Okrent, has exploded into a billion dollar, international industry.
In 1988, the fantasy sports realm was a mere 500,000 strong. According to the Fantasy Sports Trade Association, that number reached 41.5 million last year.
Friends play, families play, colleagues play, church groups play, strangers play, even the athletes themselves play.
Justin Staley is a professor at DePaul, and he's found himself in every kind of league.
"I actually only know one of the 11 other guys in the league, he's a professor here too," Staley said. "He just asked me to play because he knew I loved baseball."
Fantasy sports have become immensely popular, and while every league is completely different, reasons why people play the game remain the same.
"It's a great way to stay in touch, and who doesn't love to talk smack on the message boards?" Staley said.
"It's about connecting," O'Donnell said. "I don't know if there is anything I'm more passionate about than fantasy football."
So does the "fantasy world" have an impact on actual sports? Yes.
Now that your sister, mailman, soccer coach and boss all have a vested interest into the entire league in which their favorite teams play, people watch the games more.
According to the Fantasy Sport Trade Association, 55 percent of fantasy sports players report watching more sports on television since they started playing fantasy sports. More people watching sports leads to greater television revenue, and growth of fantasy coverage and importance which in turn leads to more interest in fantasy sports.
Fantasy is a rapidly growing community that fosters community, so referring to Fantasy sports as a "tidal wave" might have been a misnomer; it implies that it will be coming to an end. A more accurate comparison for fantasy sports may simply be our universe: growing at an ever-increasing rate.