DePaul volleyball gaining experience from spring tournaments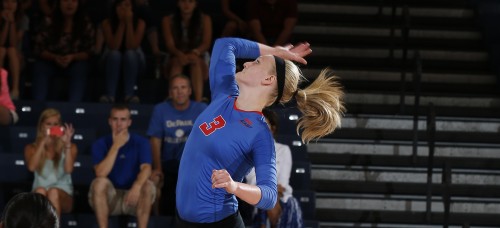 There's been a constant theme since the end of the 2014 season. With the team miring in the Big East cellar, DePaul volleyball looked at the season as a learning experience.
"I think it's just growth and chemistry," head coach Nadia Edwards said after a Nov. 9 loss to St. John's. "Throughout the season, the girls have had a chance to play almost 30 matches together and learn everybody's strengths and weaknesses."
Six months later, volleyball is ready to take the lessons learned from their 3-27 campaign in 2014 and turn it into results in 2015.
"I think that just shows our resiliency and the type of team that we have," junior Colleen Smith said. "We're always coming to the gym early to work and fight through the hard times and I think that's what's bringing us together as a group."
The team hosted a spring tournament April 11, where they faced area teams such as Indiana State, Green Bay and Indiana University-Purdue University Indianapolis, in addition to general offseason workouts.
"I think spring has been going really well just in terms of people stepping up and being more comfortable with the group in general and being able to compete," Edwards said. "We have goals every single week and their more technical goals, amping up our serves and working on our first ball contact and other specific things. I focus on those specific things to kind of measure our growth."
With no seniors on the 2014 squad, the entire team is back for spring workouts and there will be two freshmen additions before the start of the 2015 season.
"This is really helpful because we have that opportunity to be able to have the team all here together training for six months and being here over the summer," Smith said. "It's going to be an easier transition for the girls coming in next year because we're already going to have that team feel and it's going to be really good."
The attitude among the team has been to put in the work and to carry that momentum through summer and into the season's grind.
"I think that we've been working really hard and I know we just want to come back and have a really strong year next year," freshman Caitlyn Coffey said. "Everyone just always gets in here early ready to work and I think that's really going to help us going into next season."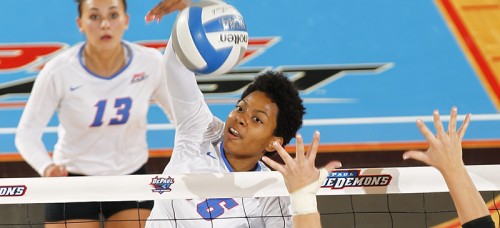 One thing that spring workouts allow is the time to work on little parts of the game that will not always be possible to work on extensively during the season.
"We're working hard every single day, and again, we're teaching the game and we're getting better at the fundamentals, and you know, I think that's the biggest thing in terms of measuring our growth," Edwards said. "They know the goals for next year and I think they're ready to go and they're pretty excited."
Part of the motivation has been the goals the team has set forth for the autumn. Despite their losing season in 2014, the Blue Demons are looking to compete and compete big in 2015.
"We're ready to win," Coffey said. "We're definitely working on winning the Big East conference and I think we're going to do well in the tournament when we make it there and hopefully get a bid to the NCAA tournament."
The goals are there from the coaching staff and the players alike.
"Our goal is to tackle one match at a time and be able to use the preseason to prepare us for the Big East Conference," Edwards said. "I think it's wide open and there's an opportunity for DePaul to be seen in the Big East Tournament this year."
They see the biggest opportunity from how well they competed against some of their Big East competition towards the end of 2014, and how they can overcome that hurdle to make it to the NCAA tournament.
"In the last couple years there have been three or four teams in the Big East Tournament that have competed in the NCAA tournament so if the girls are motivated and they come in and work hard every single day, they know it's not going to just happen," Edwards said. "But the opportunities for them to do really well next year are out there."