Recruit Develle Phillips reaffirms his commitment to DePaul men's basketball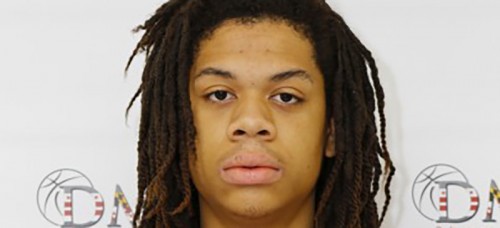 After being recruited by one coach and eventually committing to said coach and school, it can be a burden on a recruit's mind when that head coach announces he will not be at the program the next season, leaving the recruit in limbo.
This was the mindset of DePaul 2015 recruit Develle Phillips, who had some thoughts of de-committing from the program when former DePaul head coach Oliver Purnell announced he would resign  March 14.
"My first reaction was kind of like devastated," Phillips said. "I wasn't really shocked since they didn't really have that good of a year this year and I was kind of thinking that he might resign. Other than that it was just, you know, a heavy burden or figuring out what I was going to do next."
Phillips said he found out that Purnell resigned from former DePaul associate head coach Renard Phillips, who was let go the day after Purnell announced his resignation. Renard Phillips, a Baltimore native, was hired to help DePaul recruit the Washington D.C. area, which encompassed Develle Phillips. 
"At first the thing was that I was just hoping that Coach Renard would stay, but he got fired I guess," Phillips said. "Then that's when skeptical thoughts came into my head and I was thinking about de-committing and going to another school." 
Phillips is still going to honor his commitment to DePaul. The 6-foot-8 power forward was ranked three stars by 247sports.com and was the first DePaul signing for the 2015 class. One of the reasons why Phillips decided to stay with the Blue Demons was because assistant coach Billy Garrett Sr. convinced him about new DePaul head coach Dave Leitao's positives. 
"He came down and we talked a little bit and had a nice conversation about what happened and moving from this point forward," he said. "You know, he was just talking about how Coach Leitao is a good person and family orientated. He made sure that I was okay and I kind of took his word."
Garrett Sr. took over the helm of recruiting for DePaul briefly in between the resignation of Purnell and the hiring of Leitao. Even though Renard Phillips, who was the one that he established a strong relationship with, Phillips still felt confident under Garrett Sr.
"Yeah it helps because I'm still cool with him too," he said. "I believe that I can trust him with me being up there and if I ever need anything he'll be there."
Phillips said he did talk to Leitao for a little while and they talked about the system that Leitao is going to run and how Phillips will be able to play in it.   
"Talking to Coach Leitao, at one point he was just saying defense and was enforcing defense on the kids that's playing," he said. "When I was talking to him, it was like defense is the primary thing that I do, so I wasn't really worried about transitioning from a different thing."
Even though the style of Leitao might be different than what Phillips was expecting under Purnell, he's still ready to adjust to a new team at a new level. 
"It's not really frightening, but you might have to get adjusted to a different system than expected," he said. "(Leitao) just stressed defense and said you can play however you want on offense. I was excited and looking forward to next season."