Advising Director Kate O'Brien helps DePaul athletes in and out of class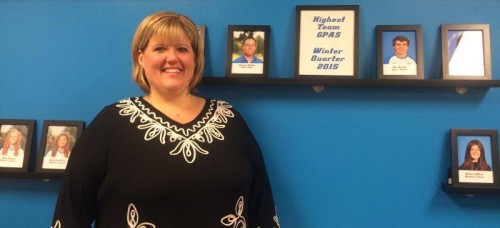 From the moment a prospective student athlete walks into the Sullivan Athletic Center as a high school student, eager-eyed and ready to find out what college has in store for him or her, to the moment of college graduation and moving onto the real world, DePaul aims to provide a number of academic resources for the student-athletes. 
This is the job of Kate O'Brien, the Director of Athletic Academic Advising (AAA) at DePaul. Since 2001, O'Brien has worked to ensure that the AAA department provides everything a student-athlete needs to succeed. And while her title states that she's the director, she maintains an involved role as the student advisor for the softball, volleyball and golf teams, as well as the instructor for the athletics-specific LSP Chicago Quarter class, a program she developed as a doctoral student.
"It's helped us a lot in getting to know students and hopefully being a resource when they need help," she said. "We've been lucky to have athletes and managers be our student leaders [for the class], so we've been able to tailor it to include health and wellness, nutrition for competing at such a high level, and other things like that. I like to get to be in a classroom- it's cool to see the students in different settings and take part in all the different parts of their life."
Being a contact for DePaul student-athletes even after their playing days is one of the highlights of the job for O'Brien. "We get to see them here, and then they have kids, or get married, or go to grad school," she said. "It's really fun to have met someone and their parents when they were 17 or 18 years old, and now they're in their 30s and living [life]."
A basketball fan since her youth, she attended her brother's games at Concordia with her family. "Basketball was our family hobby," she said. "I tried to play softball and volleyball, but it really didn't work out." Continuing to attend her brother's college games as a DePaul graduate student, she embraced her sports background and took on athletic academic advising as a graduate assistant and stayed with the department post-grad, working in various marketing and advising positions until taking her current job 14 years ago.
The AAA department, made up of O'Brien and her four other colleagues, provides many of the same resources that are offered all over campus, including mock interviews, alumni connections, academic planning, and tutoring. Other aspects of the department include mandatory study hours in the department office for freshmen and transfer students, as well as a life skills program, an NCAA-mandated component of all college athletic academic departments.
"A good portion of our time is meeting directly with students and not just advising," she said, "but chatting about life. We want them to know this is a place they can come for advice or guidance. We only have about 250 athletes and managers, so I think we get the opportunity to be more hands-on. Some bigger schools may not be able to do that, but at least for me, that's why I do it- I like working with the students."
O'Brien is more than aware of the reputation that those in her position might face. The academic side of athletics has garnered quite a bit of negative media attention in the wake of scandals at other universities, including cheating, false grading, and athletes with shockingly low reading levels. But O'Brien is confident that the reputation does not extend to DePaul. 
"The expectation comes from the top that our students are expected to go to class, do their own work, and be contributing members of the community," she said. "Our coaches recruit students that can compete in the classroom as well as the court. It also helps that we're small. We don't have 30 tutoring rooms like some schools- when we work with our students, they're right in this office, and we can see it all. Our students do really well, and we have some of the highest GPAs in the Big East- our golf team had the highest GPA in the country, and women's basketball had the highest GPA in their conference."
In spite of the harsh stigma collegiate athletics face, O'Brien said she works to make sure every student feels supported and cared about as a part of DePaul athletics. Her family often comes with her to attend her students' games, where she "doesn't really have a specific job to do," she said, but she cheers them on. She also emails, calls, and texts her students often, making sure they're connected to the people and places that will help them make the most of their four years. She even continues to be a contact and resource for graduates. "I had a student who was here maybe ten years ago, and he reached out and said he had a job interview and had questions about it. I think it's neat that they know they can still call and update me on the jobs they've gotten, or where they've moved. I love it."
---
DePaul Academic Athletic Achievements
APR Honors
Six sports (women's basketball, women's tennis, men's cross country, women's soccer, men's gold and softball) were in the top ten percent of squads in their respective sport.
Big East All-Academic Team
There's been an overall increase in players over the past nine seasons who make the Big East All-Academic Team, with 151 athletes making their respective sports All-Academic teams in 2012-2013.
National Academic Recognition
Several teams earned national recognition for their GPA performances in 2013-2014, including:
Women's basketball: Earned the WBCA No. 8 ranking with a GPA of 3.559.
Men's Golf: Earned the GCAA academic national championship for the fourth time in five years.