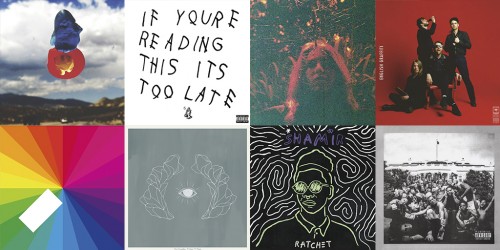 Filled with emo hits and hip hop jams, 2015 has been a phenomenal year for music, so far. These are some of the writers and editors of The DePaulia's top albums released this year.
Kirsten Onsgard, Digital Managing Editor

Following a fairly lackluster year in music, 2015 has been refreshing. There's been a few surprises, like Death Grips' "Powers that B" (and subsequent quick reunion) and newbies Bully striding in with a raucous pop punk record. Others, like Dan Deacon's "Gliss Riffer," Earl Sweatshirt's "I Don't Like S-, I Don't Go Outside," and Tyler, The Creator's "Cherry Bomb" disappointed. Kendrick Lamar, Courtney Barnett and Jamie xx exceeded already high expectations.
Granted, such a great year means an overwhelming influx of music, and there's still a lot on my to-listen list. Ratatat's "Magnifique" and Donnie Trumpet & The Social Experiment's "Surf" (yes, I know I'm a bad Chicagoan) have yet to settle in, and I haven't been in the emotional mood to give a proper listen to Sufjan Stevens' "Carrie & Lowell." But we're only halfway into the year, and there's still a lot of releases (Mac Demarco, Youth Lagoon, Beirut, Beach House and hopefully Kanye) I'm looking forward to.
"In Colour" – Jamie xx
"Sometimes I Sit and Think and Sometimes I Just Sit" – Courtney Barnett
"Panda Bear Meets the Grim Reaper" – Panda Bear
"Viet Cong" – Viet Cong
"Feels Like"- Bully
"Another Eternity" – Purity Ring
"MCIII" – Mikal Cronin
"I Love You, Honeybear" – Father John Misty
Kevin Quin, Staff Writer

Around this time last year, Lana Del Rey was elevating to new sad girl heights with her third album "Ultraviolence," Future made it a point to be as "Honest" as possible and St. Vincent's sincere self-titled release was bringing just about everyone to tears. Things seem to be sounding a bit brighter for music this year thus far with a bubbly debut from Shamir soundtracking my summer, a dazzling LP from Jamie xx for breezy nights, and an unforgettable, yet still emotional return from Drake.
"Ratchet" – Shamir
"If You're Reading This It's Too Late" – Drake
"In Colour" – Jamie xx
"Surf" – Donnie Trumpet & The Social Experiment
"Use Your Time Wisely" – Strange Names
"You Should Be Here" – Kehlani
"At. Long. Last. ASAP." – A$AP Rocky
"What For?" – Toro y Moi
[box]Read: The DePaulia's top films of 2015, so far[/box]
Matt Paras, Editor in Chief

It's an open secret around The DePaulia office that the rest of my colleagues can't stand my taste in music, save for a few. But the joke is on them because emo music is awesome, and 2015 is showing no exception.
Turnover's "Peripheral Vision" is the band's second album, and it features a vastly different sound than the rest of their earlier material. Originally a pop-punk band, the Virginia Beach natives lull you in throughout with driving melodies and a really soothing sound, that personally incites a lot of nostalgia. Likewise, Swedish indie singer-songwriter, Jose Gonzalez, nails a similar vibe that fully delivers after coming out with his first album in eight years.  Gonzalez is the furthest thing from emo — proving I'm not one-dimensional and people in the office actually like it when I play him — and his latest release "Vestiges and Claws" is another reminder that he's such a great artist.
But this year was also great for loud, angry albums too. Desaparecidos, the side project of Conor Oberst of Bright Eyes, kills it with a politically charged record, their first album since 2002. MewithoutYou, Pet Symmetry and Jeff Rosenstock released bangers as well
"Peripheral Vision" — Turnover
"Vestiges and Claws" — Jose Gonzalez
"Hyperview" — Title Fight
"Pale Horses" — MewithoutYou
"Joy, Departed" — Sorority Noise
"Payola" — Desaparecidos
"Pets Hounds" — Pet Symmetry
"We Cool?" — Jeff Rosenstock
"Runners in the Nerved World" — The Sidekicks
"No Life For Me" — Wavves and Cloud Nothings
Jaycee Rockhold, Staff Writer

Bully, a band out of Nashville, is sugary sweet, Nirvana inspired, and scathingly honest, which is why I purposefully put their album at the top of my favorite 2015 releases so far. 2015 has boasted a lot of odd music releases (sorry, PC Music didn't make the cut for me), but also a lot of gems, whether it be from well known artists like Kendrick Lamar or smaller singers like Juan Wauters. Either way, all of these albums have been soundtracking my first, rainy Chicago summer and keeping me sane.
"Feels Like"- Bully
"English Graffiti"- The Vaccines
"Currents"-Tame Impala
"To Pimp a Butterfly"- Kendrick Lamar
"Aurete Gloom"- Of Montreal
"I Love You, Honeybear"- Father John Misty
"The Powers That B"- Death Grips
"Happy People"- Peace
"Before the World Was Big"- Girlpool
"Who Me?"- Juan Wauters