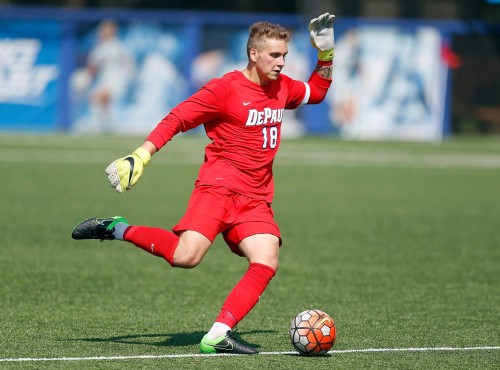 It's been a tough start to the season for senior goalkeeper Mack Robinson, but he's back between the sticks and ready to impress just in time for conference play.
Recovering from an injury suffered earlier in the year, his transition back to starting goalkeeper has been slow, but he doesn't shy away from his feelings about being out there again.
"(It's) fantastic. It's hard to describe because I've been out for six or seven months and I'm finally getting back on the pitch," Robinson said.
His first start for the Blue Demons came on Sept. 17 against crosstown rival University of Illinois-Chicago, though he featured briefly against Elon at the John Rennie Nike Invitational and again in DePaul's lone win over Fordham. Robinson saw just over 45 minutes of play before finally making his starting debut against the Flames.
"That first start, there's not really a feeling to describe it," he said.
Robinson's return is something coach Craig Blazer said is very important to the team going forward. After a solid first season for the Blue Demons last year following his transfer from Ohio Dominican, Blazer expects the same, if not better, this year.
"We're all encouraged with the hard work that he's put in to get back to the spot he's in right now," Blazer said. "He hates to lose and he's a winner, so having that component now, he just needs more games under his belt. We need to get successful games under his belt with draws and wins."
Despite being winless since his return, Robinson is pleased with his performance and the team's performance as a whole, especially the recent 1-0 extra time loss to a strong Xavier side.
"It was competitive, all of our games are. Obviously it's not a one-man effort; it's a team effort," Robinson said. "I do the best to help the team and sometimes it's not enough."
Optimism is something Robinson is not lacking. Regardless of an outcome, he manages to find positives in it and how they can help the team moving forward. In the Xavier loss for example, while the rest of the team was morose, he immediately talked about how good the team looked out there and how all three lines – defense, midfield, and forwards – seemed to click more than they have all season long.
In Robinson's absence, Quentin Low took over goalkeeping duties and fared well. Blazer praises Low for his great season so far and enjoys seeing the goalkeepers compete with each other.
"We challenge everybody to get to their next step, get to their next level and (Quentin) has done that and he's offered great support to the other goalkeepers as well," Blazer said. "His work ethic and the amount of work (Mack and Quentin) put in is fantastic. We're in a good situation with goalkeepers."
Robinson loves the competition too because it keeps him at his best, and with a quality backup nipping at his feet, he has to be.
"There's always pressure for everyone to perform well and having good goalkeepers to back me up and push me in training is always a good thing," Robinson said.
While the goalkeeping battles keep Mack at his best in practice, he says it's the defense that keeps him at his best during the games. How much does he credit them for his success?
"Ninety percent. As a goalkeeper you can make great saves, but there's a lot of line positions and tendencies we work on," Robinson said. "If I don't have a good angle, I can't make the save."
"All of those good saves are a result of a defender pushing him the right way and I was able to make the save, that's a credit to the whole team, not just me," he added.
Something unique about Robinson is the number he wears on his jersey, 18. Usually starting goalkeepers opt for the number '1' to signify their position on the team.
"I've never been a no. '1' goalkeeper," Robinson said. "The number has always been 12, but 18 was the closest to it, so I went with that."
"It's not really a big deal, I'm not a numbers guy," he added.
His humbleness as a player who thinks about the team first and not about himself is apparent throughout the squad, especially with his coach.
"Mack's a team player," Blazer said. "Overall he wants to win and he's got that goalkeeping mentality, it definitely serves him well and it serves us well."
As a natural born winner, Robinson sticks with one mentality going into every game.
"I've always told myself the best I can do is keep the zero and we can't lose."