Campaign advocates for CTA Brown Line extension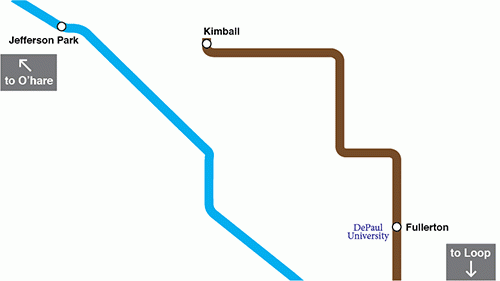 Growing up in the city would seemingly be a huge advantage for DePaul senior Bobby Hawkes, who is taking classes just miles away from his home in the Jefferson Park neighborhood on the city's Northwest Side. Yet the closer he was, the further away he seemed to be; until he got a car and moved to Wrigleyville, that is.
Hawkes was one of many students who had to deal with the hassle of commuting via public transportation for a large part of his time at DePaul. Every day, he would take the Blue Line from Jefferson Park to downtown, transfer to the Red Line at Jackson, and go back north for classes in Lincoln Park.
It would take him at least an hour and a half each way. Of course, he could also transfer to a number of bus lines that run east from the Blue Line, but it makes no difference in time. And to drive from Jefferson Park to DePaul? Only 30 minutes.
This painstaking commute exposes a gap in Chicago's public transportation system, which anyone who has ever flown out of O'Hare or lives out there has become accustomed to.
"Unfortunately, when our transit system was laid out, it was laid out in a radial fashion," said Jacky Grimshaw, the campaign director for Transit Future, an organization pushing for the modernization and expansion of the region's public transportation. "The various train lines terminate in the Loop, which is fine if you live on one of those radial systems, but if you live between the spokes, then your transit commute time is much longer."
Yet to get from Point A to Point B, especially going east to west, Chicagoans who rely on public transit oftentimes have to wait for CTA buses on oft-clogged roads, making for one long commute.
"I'm a South Sider. So if I want to get from Hyde Park to O'Hare, it's a piece of cake," Grimshaw said. "I take the Green Line to Blue Line and I'm at O'Hare. But my friends on the North Side tell me about their struggles to get from the North Side to O'Hare. And I'm thinking, 'man, O'Hare is on the North Side of city. Why is there this difficulty?'"
One of the answers to this problem, according to Transit Future, is an extension of the Brown Line from Kimball to Jefferson Park, where it will meet up with the Blue Line. This would give North Siders a direct connection to O'Hare and significantly reduce travel times, the campaign said.
For Hawkes, it would mean a much easier commute home and lead to less driving.
"Right now, it's very hard to get from Lakeview to Jefferson Park on the CTA," Hawkes said. "As a result, my friends and I all drive. My buddies and I have been going down to Wrigleyville since high school. Half of the time, they'd have to drive home after drinking, so a project like that would make it whole lot safer."
While he wholeheartedly supports the project, Hawkes said that people in Jefferson Park are a little pessimistic about such a project. Known for being a bastion of city workers, many in the neighborhood are more worried about their pensions, Hawkes said.
This presents a challenge for the campaign as every available resource at the city, county and state level are being exhausted to pay for pensions. For the extension and other projects Transit Future are advocating for to become reality, they will need to find a stream of revenue to tap into.
While Grimshaw jokingly said that the organization didn't know everyone was broke when they first embarked on the campaign, she is confident that as more people advocate for these proposals, political leaders will listen.
"There's a bit of coordination, but there's still some disconnect. We haven't gotten there yet, but I think if people who use the system speak up as well as people who are responsible for the system make sure that the different systems are talking to each other, we can get to the place where we have an integrated transit system here in the region," Grimshaw said.
View Comments (2)