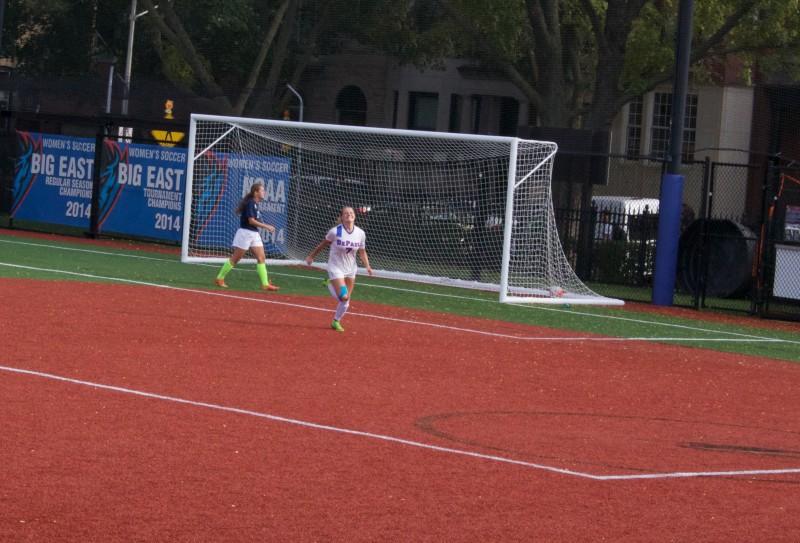 It's hard to tell what Elise Wyatt is better at — scoring goals or being humble about it.
When the senior forward tied, broke and then extended the DePaul women's soccer all-time scoring record to 34 goals against Butler Thursday in a 3-2 victory, she remained modest and focused on the team.
"I'm very proud that I accomplished it, but I'm more proud that this team grinded out a win," Wyatt said. "I'm more excited to get the three points."
It's not uncommon for a striker, and program's leading scorer, to be a bit selfish.  How else is she going to score all of those goals over a four-year span?
Wyatt is different, though. While Wyatt has helped transform DePaul into a winning program, Wyatt hasn't let the success go to her head. Regardless of the situation, it's always about the team, and her teammates thrive because of it.
"She's a great leader, she pushes all of us to be our best on the field," sophomore Alexa Ben said. "She will motivate everyone on the field to do their best and we really feed off her."
Ben is only in her second year with the Blue Demons and has loved every moment of playing with someone of Wyatt's caliber. It makes Ben's job as the creative midfielder a little bit easier knowing there's a pure striker ahead of her at all times who can easily take over a match in any instance.
"She's been working so hard all four years and she's gotten better each year," Ben said. "Her senior year she just stepped it up a notch and it's been great to see the last two years…how much she's bloomed."
While Ben has already played a season with Wyatt, freshman striker Franny Cerny is learning from the DePaul star daily.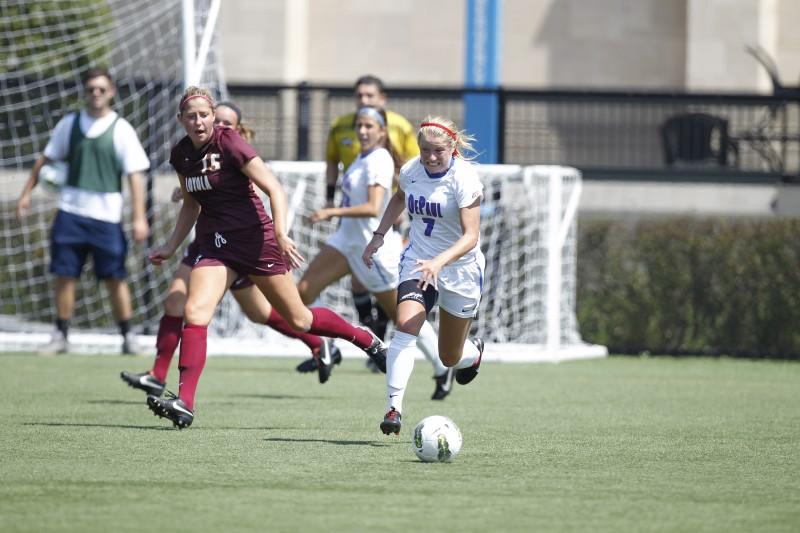 "Me being a freshman, just seeing her do so well makes me want to do really well," Cerny said. "She's been really welcoming…I aspire to try as hard as I can to get to where she is now. I want to be like her."
Wyatt's energy resonates throughout the team and it forces them to step-up and try to match her every move. It's why Cerny says she's such a vital part of the squad.
"She always brings 100 percent to whatever she does. Whether it's in practice or a game, she's always the one to try her best and it motivates us to do our best and work our hardest," Cerny said. "The level of skill and determination she has rebounds off of us and we all get better as a team from her."
The opportunity to field a player like Wyatt isn't something every coach in college gets. Erin Chastain praised the British Columbian striker and how much of an impact she's had on the team since joining.
"It's really fun to coach her," Chastain said. "You want competitive kids and you want winners in your program and she's absolutely that. She's been an incredible woman to have in our program for four years and I'm just really happy at the direction her senior year is going."
Junior Abby Reed, only in her second year with the team after transferring from Indiana State following her freshman year, plays alongside Wyatt the most with the duo generally starting every match up top together. As a natural goal scorer herself, finding the net 26 times in her collegiate career — 10 at Indiana State, 16 at DePaul — Reed still views Wyatt as somewhat of a role model.
"When I first got here last year, she was someone I could really look to for leadership and to just lead the team," Reed said. "I can always trust her up top when she has the ball."
As this is Wyatt's final season with the Blue Demons, it seems like she's doing everything in her power to make it a memorable one, especially in big games with conference implications.
"(She's) going out with a bang," Reed said. "It's super important in intense games like this when every opportunity matters and she really makes the most of them."
Wyatt is just one goal away from tying the school's single-season record of 12, matched last year by Reed.
While she will always remember her record-breaking 33rd goal, she can still recall her first goal for the Blue Demons — against Pittsburgh on Sept. 12, 2012 — like it happened yesterday.
"I can't remember who played the ball in, but I flicked it on for a header and I actually headed it back into the net," Wyatt said. "It was my first collegiate start as well … and my parents were there too, so my dad and mom got to watch my first goal. That meant a lot to me."