In Cubs postseason, 'our year' feels different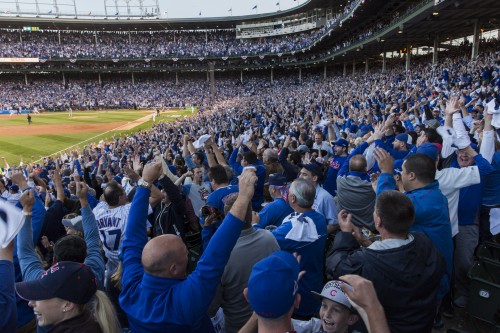 There are certain moments that you'll never forget where you were when they happened. 
With one out in the bottom of the fifth of Monday's Game 3 NLDS Cubs-Cardinals series and Chicago's first home playoff game since 2008 at the iconic Wrigley Field,  third baseman Kris Bryant stepped up to the plate. With a full count, Bryant made contact and everyone in Wrigley Field knew it was destined for the bleachers. The crowd erupted, white W towels waved and high fives were shared all around. The Cubs had a two-run lead in their first home playoff game in seven years on Monday night. Everyone in the stadium would remember where they were during that moment. 
I was in line to use a Wrigley Field washroom.
The man in front of me turned to his son and joked, "10 years from now, we won't tell anyone we were in line to use the troughs." And it's true. We'll look back and remember going to a Cubs playoff game – a damn good one – with our friends, families and coworkers. It was a party, but not of the Wrigleyville frat variety most often associated with the Cubs. There is finally something else to celebrate besides just a nice day at the ballpark.
Previous seasons have been defined by resigning to defeat, usually before that season even starts. The idea that "this is our year," has become more of a joke than an affirmation of faith. But since the beginning of the season there's been a different feeling around Wrigley.
On opening day I sat next to Brett Mann, and his son 3-year-old son, Fred, who was attending his first-ever Cubs game.
"I wanted this to be (Fred's) first game because this is the start of a new era," Mann said. "Hopefully he won't have to experience years of disappointment like I did as a kid. I want him to be able to say 'I was there when it all started,' even if he doesn't remember it."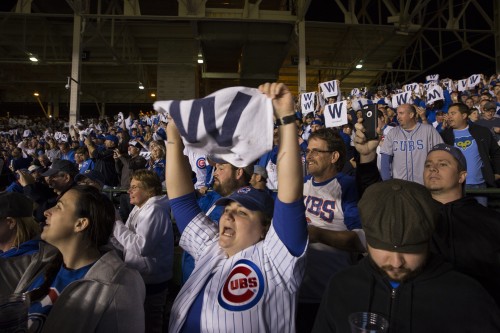 Fast-forward 27 weeks, and it looks like Brett was right. It does feel like the beginning of something. Often, you'll hear a scene described with "tension filling the air." Last night was nothing like that. It was filled with hope. It was 40,000 plus fans diving head first into the excitement of a fun, young Cubs team that doesn't know it should be an underdog.
The players and fans fed off of the mutual excitement and enthusiasm, and it's infectious. Every single fan in Wrigley was standing for almost the entirety of the final 3 innings. The 7th inning stretch was a video recording of Ernie Banks signing, and it brought at least one grown man to tears. But more than anything the environment was fun. There was a youthful innocence in the atmosphere, and everyone wanted to soak it all in.
Like both Mann and the boy in line in front of me, I was at this game with my dad. Tonight I was just a 26-year-old kid enjoying a Cubs win at Wrigley Field, without a care in the world. This is exactly what sports hopes to be at its highest aspiration, something that brings us back to a time when we were young, when we could just sit back and enjoy an experience without being distracted by real life. Every hit and every strikeout was met with a bear hug from my dad, and I couldn't help but get lost in the moment.
For the first time since I can remember, I was able to watch a Chicago sports teams playoff game and just enjoy it, stress- and anxiety free. And by looking around me, it seems that 42,411 other people felt the same way, like we were all kids again. We don't know how long this will last, but right now it feels like anything is possible. We just want to sit back and enjoy the ride. In the coming years, the story of where I was when Bryant hit that homer may change, but this is a feeling that will never leave.
[aesop_gallery id="16365″]