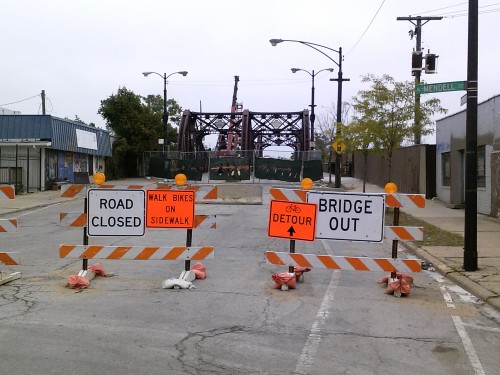 Steven Furmanek ground his bike to a halt on the planks and looked across the rust-colored Cortland Bridge to the Chicago River below. On the other side of him stood fences holding orange signs that read, "Bridge closed for construction."
"I've been crossing this bridge since I've been a boy," said Furmanek, who is now a middle-aged man. "Before they started to rebuild it, everything looked shot."
Looming overhead was a small boat, held by a red crane. The sounds of construction echoed from both banks.
"They just rebuilt (the steel grates) and the planks," Furmanek said. "I've never seen them change everything before."
Since 1902, the Cortland Bridge has served as a link between two banks of the Chicago River in the neighborhoods southwest of DePaul's Lincoln Park campus, connecting Ashland and Elston avenues to the west and Clybourn Ave. to the east. But now that it is closed for repairs, vehicles must find a detour until Nov. 1, when the bridge is scheduled to reopen.  In the meantime, those with bikes and on foot can still cross.
Before the construction began, an estimated 10,000 vehicles drove over the Cortland Bridge every day, according to Ald. Brian Hopkins of the 2nd Ward. These vehicles now cross the river either by North or Webster Avenues.
With diverted traffic comes packed streets and delays elsewhere.
Don Carlton, who lives in Lincoln Park, said the problem with Cortland Bridge for him is that he must take a 30-minute detour on Fullerton and Webster avenues, which he said are usually jammed.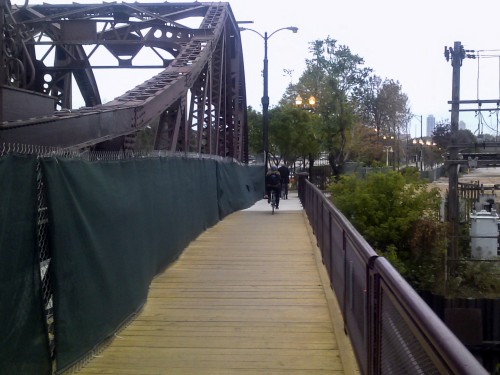 Most of the traffic across the Cortland Bridge is now by bike, a route encouraged by the Chicago Department of Transportation.
The repairs are funded by the Tax Increment Financing district, a fund used by the city to do tasks such as repair roads and put vacant land back to productive use. There is no current information on the Cortland Bridge's price tag on the city's website.
By Oct. 5, steel grates had been installed where vehicles will drive, and planks placed for the use of pedestrians.
Alex Vicksen crosses the bridge about once a week to go grocery shopping in Lincoln Park. He said he takes this route because it is the quickest.
"As long as it's open for pedestrians, it's fine," he said. "It wouldn't change anything for me."
Vicksen said the Cortland Bridge and its construction made him feel nostalgic. A few weeks ago the Finkl Steel Mill was destroyed, leaving an open, dusty space on the east bank of the river. The location was one of those considered for a new DePaul basketball arena before plans were confirmed for the South Loop near McCormick Place.
"Got me thinking about the older days — industrial days — and how things are changing," Vicksen said. "You don't think about it."