DePaul men's basketball defense-focused in scrimmage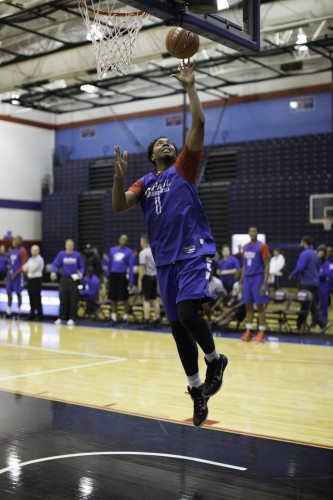 After two weeks of practice and a team scrimmage that gave DePaul fans the first look of the 2015-16 Blue Demons, the team is optimistic as they approach the first game of the season.
"We're trying to turn over that new leaf and we know we're more than capable," senior forward Tommy Hamilton said. "We've upped our work ethic 100 percent and I think we should be ready to go by when it's time to play."
The focus of the first two weeks has been the different defense that new head coach Dave Leitao has been implementing. This style of defense focuses more on stopping the gaps and forcing bad shots rather than full court pressing and going for steals like they had been in the Oliver Purnell era.
"I feel pretty comfortable with it," junior point guard Billy Garrett Jr. said. "It still hasn't become second nature yet because it's new but I like the way it's going so far. The results are showing in practice."
A specific part to that defensive adjustment has been establishing communication in the defensive end.
"We're still a long way from where we need to be in terms of playing how we want to play," Leitao said. "On the defensive end that takes a while to create that bond, that trust that goes into it. Because we're only two weeks into it we still have some work to do."
DePaul, however, believes the changes are helping.
"They're showing us how to do it," Hamilton said. "At first I had no clue how to play defense properly. I thought I did but six months ago I found out that I had no clue how to play defense. We just got into it right away."
This scrimmage also saw freshman forward Develle Phillips and freshman guard Eli Cain, who had missed some time due to injuries. Leitao, who said they did have to get up to speed, said he was happy with the depth they provide.
"Because we have a lot of interchangable parts that can play multiple positions I think it gives us a bit more depth," he said.
Cain appears to be in line for a starting spot this season after he played the two position in the France exhibitions and played there in the scrimmage. However he is still adjusting to the college level as well as the new team.
"I feel that basketball is just basketball but the game is definitely faster," Cain said. "The game is much quicker so coach just tells me to 'play first base' and go for singles not home runs, but I'm adjusting."
The depth also comes with size as Hamilton and Rashaun Stimage now have Phillips, freshman Oumar Berry, freshman Fredrick Scott,  sophomore Joe Hanel and senior Peter Ryckbosch as forward depth.
"Just know that you've got another guy down there," Hamilton said. "It's rough down there, especially in the Big East  especially when we're on the road, it's good  to have another big down there to absorb some of the bruising and to give some of the bruising."
DePaul is still trying to create chemsitry but they feel the Blue Demons are coming together well under Leitao.
"I'm feeling good about the team," Garrett Jr. said. "Defensively we're growing and we're getting better every single day."
Hamilton also talked about a hunger he sees in the new coaching staff that he hadn't necesarrily seen in previous seasons.
"Our practices are a lot more bumping, we're bumping a lot more," he said. "We're getting a lot more out of them and we're just trying to get the most out of them to get ready to go."
The season begins on Nov. 14 against Western Michigan.