DePaul men's basketball overwhelms Caldwell 82-52 in exhibition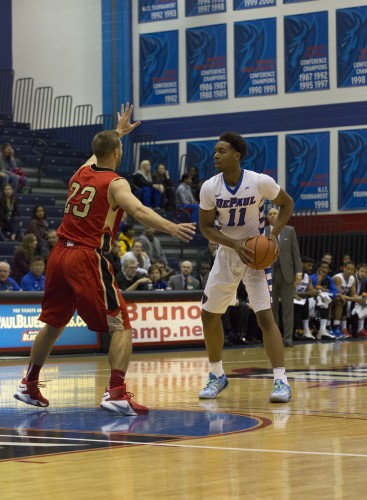 It didn't matter that DePaul was up by nearly 30 points late in the second half. It didn't matter that their opponent, Caldwell, was only an exhibition opponent. In Dave Leitao's first game back at DePaul. All that mattered was that the Blue Demons were playing with intention.
"We were up by 30 or so, but the way he was on us, it seemed like it was a pretty tight game," senior forward Tommy Hamilton said. "He keeps us on our horses."
The intensity was focused on playing every single possession.
"I thought we were losing," senior guard Aaron Simpson said, laughing. "We've been known to give up games in the past and (Leitao) wants us to play all 40 minutes."
It may have felt like they were losing but the final result could not have been farther from that. DePaul rolled to an 82-52 victory over Caldwell in their first and only preseason game of the season. Hamilton led the Blue Demons with 13 points and also put in seven rebounds.
"I thought that during the course of preseason we've shown some moments but we've also went on the other end and had some bad moments as well," head coach Dave Leitao said. "I want to get to the point where we understand for a high percentage of the time that we can play that way, regardless of the circumstances. In no way, shape or form am I ready to say we're anywhere near where we need to be."
The defense was the big story in the exhibition game as DePaul showed their new style that focused more on clogging the lanes. The new style gave DePaul 15 points off of seven turnovers in the first half and the interior defense held the Cougars to a 33 percent field goal percentage.
"I think we tried to implement what we've been working on in practice," Hamilton said. "We still have a lot of work to do."
DePaul led 47-21 at the break.
"I'm pleased with how we came out," Leitao said. "Those first 20 minutes were kind of what we've been talking about for the last four-to-five weeks about energy we need to play with, particularly on the defensive end."
The second half was sloppier for DePaul as they jumped from seven turnovers to 16. However, their field goal percentage actually went up as they finished the game shooting 59 percent from the field. Caldwell made a couple of indents into the lead but never made it close as DePaul rolled to the 82-52 victory. The intensity from Leitao, however, remained.
"You worry about the score at the end of the game," Leitao said. "It's so early and we're so young, especially when you have guys coming off the bench trying to learn how to earn more minutes. So my understanding is that it really doesn't matter, you have to play a certain way. We have to understand that every possession is critical."
Alongside a new way of defense was the first time that DePaul played with a shorter shot clock, which went down from 35 seconds to 30 for the 2015-16 season. It did not seem to affect DePaul, however.
"I didn't even notice it," Simpson said. "The way we play is fast, guys get to the basket quick so it wasn't a factor."
With the exhibition out of the way, DePaul opens up their regular season Nov. 14 against Western Michigan. This game will also be at McGrath-Phillips Arena before they move the majority of their games the rest of the season to Allstate Arena.