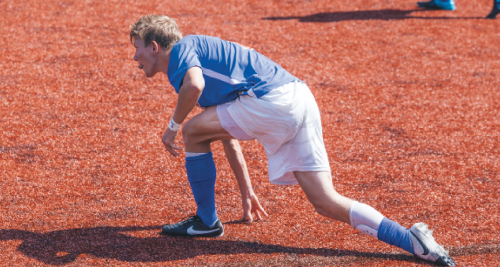 Eleven games into the season, the DePaul men's soccer team was 1-10-0 and 0-2-0 in the Big East. At the time, a Big East Tournament berth seemed implausible.
All season long there were doubts the Blue Demons would be anything more than a conference bottom-feeder and the team used this as the gasoline to spark their fire.
The final seven games the Blue Demons went 4-2-1 in the Big East and secured a spot in the Big East Tournament for the first time since 2011. It was their goal all along and to finally achieve it is something Simon Megally credited to dedication.
"It's a culmination of everything we've worked for," Megally said. "It's great to get our original goal of making the Big East Tournament in a very hard conference."
The players knew that despite a poor start, once the conference games began, their season did too.
"A lot of non-conference games (didn't go) our way, and (when) we got into conference play, we knew it didn't matter what you did at the beginning of the season, you can turn your whole season around," Megally said. "It's a credit to all of the hard work we've put in."
It's the hard work day-in and day-out where Megally and his teammates strive to improve every aspect of their game.
"The last two years it's what we've wanted to do," Megally said. "Every time we're lifting weights, doing sprints, it's always in the back of my mind."
"It shows how good we are of a team to bounce back from a lot of hard things at the beginning of the season," he said.
Coach Craig Blazer credits the resurgence at the end of the season to something he and his coaching staff told the players at the beginning of the season.
"The foundation was always there of the collaboration between coaches and players and the players finally responded," Blazer said. "We said it was the players' responsibility to take over the team on and off the field and they stepped up."
Most teams that start off the way DePaul did would have trouble finding the motivation to get better each game, but that's exactly what the Blue Demons did. Mack Robinson said the team fed off the poor start and were hungry to improve.
"We were tired of losing," Robinson said. "Sometimes all you need it a little bit of luck to turn the season around. Maybe we got a pass or a goal that went our way and we took advantage of it, made the best out of it and turned it into a pretty good Big East season."
"To come back from 1-10, talk about a comeback story."
Senior Jalen Harvey will feature in his first Big East Tournament and says it feels even better because of how the season shifted seven games ago.
"How we started the season, for us to be at this point now is unbelievable," Harvey said. "It means we should be noticed and respected by everyone else in the Big East."
"We should be taken more seriously now."