DePaul men's basketball pulls off dominant upset over No. 20 George Washington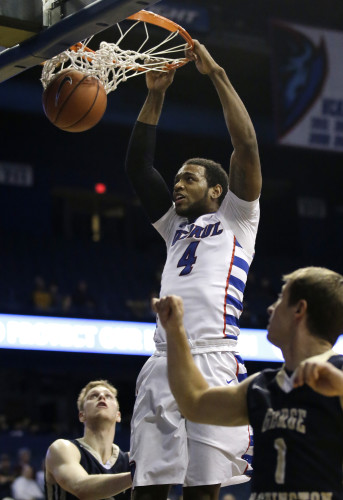 Myke Henry was assessed a technical foul, but at that point, the damage was already done.
Henry, a senior, stormed the open lane with the ball and proceeded to ferociously slam it over a George Washington defender. Tyler Cavanaugh, the victim in mention, fell to the ground and a referee signaled for the blocking foul.
On his way down, Henry let out some words that caught the referee's ears.
"It was nice. He's gotta keep his cool a little bit," guard Billy Garrett Jr. said, grinning. "I guess the kid had said something to him the play before. He got excited. But you've got to play with passion. I wasn't mad at him."
Language aside, the play was a top-10 worthy highlight dunk, but even more so, it was an exclamation point on the route DePaul was putting on No. 20 George Washington (10-2), taking a 33-15 lead.
It was the type of energy that fueled a surprising and dominant 82-61 win  for the Blue Demons (6-6) Tuesday to close out their non-conference schedule at Allstate Arena.
The win was DePaul's first victory over a ranked team this season, and the Blue Demons' first since its upset win over No. 24 Seton Hall on Jan. 25 of last season.
And it was the first time at home that the Blue Demons beat a nationally ranked opponent since January 2008.
"At halftime, I talked about that we didn't get their best punch yet," DePaul head coach Dave Leitao said. "I thought we stayed solid. I could look at the film where I'd see stretches where we didn't here or there, but over the course of 40 minutes, we made more plays that were winning plays.
"It was a result of belief in each other."
On only two days rest, it was almost expected that DePaul would roll over against a team as skilled as George Washington after losing a heartbreaker to Northwestern in overtime. But Leitao said in the days of preparation, the Blue Demons focused on playing intelligently. He told his team that the effort was there, and that they needed to put it together as a team.
And so as soon as the ball tipped against George Washington, the Blue Demons came out with a jolt of energy. They found open shooters and hit their first four shots to rush out to a 10-0 lead in the first three minutes.
The Blue Demons stuck to the defensive game plan prepared for them and often cut off driving lanes. George Washington rarely had an opportunity to shoot an open jumper, and when they did, they often missed.
The Colonials finished the game shooting 33 percent and only 14 percent from beyond the arc. George Washington shot an average of 45 percent prior to Tuesday's game. Forward Kevin Larsen led George Washington with 17 points and 11 rebounds.
"We had no energy to start the game," George Washington head coach Mike Lonergan said. "I was worried about that coming out. I knew this was a big opportunity for them to beat what I thought was a pretty good team at home. We just came out with no energy. It's tough to go down 10-0."
DePaul's offense was a showcase of what it could look like under Leitao as well. Consistency had been the death of the Blue Demons, but DePaul got consistent efforts from Garrett, guard Aaron Simpson and freshman Eli Cain.
Garrett had a game-high 20 points and seven assists. Garrett mixed up his attack, getting good looks on jump shots and being aggressive at the rim.
Cain, too, showed his touch around the basket. The freshman had 16 points on 6-of-9 shooting. Simpson added 15 points while Henry had 11. As a team the Blue Demons finished shooting 55 percent, including 44 percent from three.
"When we move the ball, we look very much as a team," Simpson said. "When we don't move the ball, it looks very impatient. We just went out there and executed."
The offense was the result of what Leitao preached to his players in practice. The Blue Demon head coach said his players shared the ball the best they had all season long, and kept George Washington "a half measure behind." It forced driving lanes, and he said it gave his team more confidence.
However, it was the dominance that made the victory a true measure of progress. During last year's non-conference schedule, George Washington earned an 81-68 win in a game much wider than the final score suggested.
This time, the Blue Demons never even let the Colonials claw their way back. Garrett said he noticed the frustration forming between George Washington players and the bickering between them.
For once, there wasn't any frustration for DePaul.
"It feels good to win, but we're not surprised because we know what type of team we have," Garrett said. "Hopefully, we can use this as a stepping stone in the Big East and we can use it to get better."