Men's basketball shows progress but not results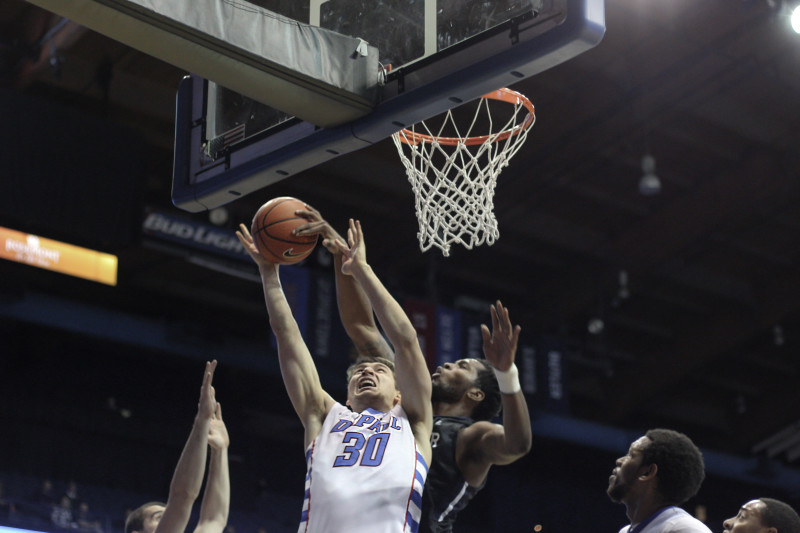 DePaul's revenant head coach Dave Leitao has every reason not to let DePaul's poor start to the season get to him. The Blue Demons play in one of the toughest conferences in the nation, finished with a 6-12 conference record last season, and lack game-changing talent. However, Leitao is refusing to resign this season to the expected platitudes.
"I am a terrible, terrible loser," Leitao said. "I never get satisfied."
DePaul has shown signs of growth even in tough games, like the recent 77-72 loss against No.18 Butler. The Blue Demons committed 17 turnovers against the Bulldogs, routinely ending their own runs with bad mistakes.
Leitao cited mental errors as one of the problems with DePaul's season.
"We've got to continue to try and fix the things that cost teams basketball games," he said. "We have to find a way to correct that."
Senior forward Myke Henry shared a similar feeling about the frustrating season thus far.
"It's hard to compete when we're beating ourselves," Henry said. "We have to look within ourselves and stop making DePaul beat us. We have to make another school beat us."
DePaul is 290th in the country in turnovers per game at nearly 15 per game. In Big East conference play, DePaul is averaging 16.6 per game.
In addition to sloppy play, inconsistency has left DePaul playing a toxic game of "Musical Chairs," according to Leitao.
"We need contributions, whether or not they score the ball," Leitao said. "When young guys see the ball in the basket, they equate that to playing well. That's only one of an infinite amount of ways you can play well."
Billy Garrett and Myke Henry are the offensive leaders of the team, though they lack the consistency of other great players in the Big East. Against Butler, Garrett had one assist to three turnovers. Henry was 1-5 from the free throw line.
The coaching staff for DePaul knows that winning will be the only barometer to indicate whether or not they are succeeding as a program. Leitao is trying to immerse the Blue Demons in a winning culture.
DePaul has changed this year. No longer are the Blue Demons an easy win for the opposition, but rather an annoying win.
DePaul's game against No. 18 Butler came down to the final possession. The Blue Demons also lost to Seton Hall by just four points, and to Penn State by just six.
"You got to play as hard as you can, you got to play as smart as you can, and you gotta play as together as you can," Leitao said. "If they keep hearing it, then they'll start believing it."
The effort and tenacity has turned DePaul into an excellent rebounding team; a team that good opponents no longer look forward to playing. Even Butler head coach Chris Holtmann acknowledged DePaul as no longer a pushover.
"They play really, really hard, they make it difficult to play. I got a lot of respect for how they play," Holtmann said.
DePaul hasn't returned to their former height as a Big East threat, but they're heading in the right direction.
"It's not easy," Leitao said. "We've got to change a culture."