Bowie, Rickman leave lasting legacies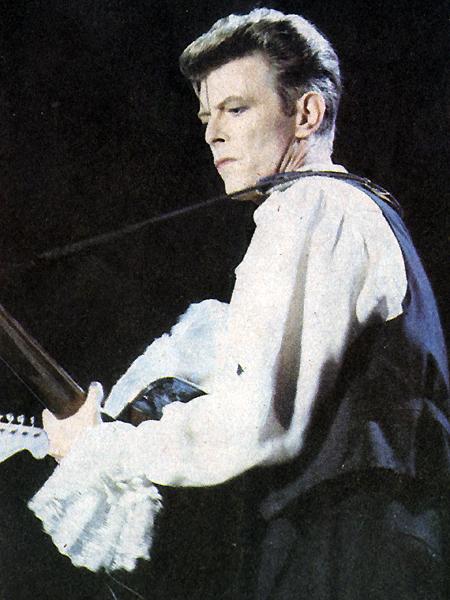 It was a heartbreaking week for the entertainment industry, as two beloved celebrities, actor Alan Rickman and musician and actor David Bowie died of cancer, both at the age of 69.
Alan Rickman is notable in the film industry for starting his acting career at the late age of 41 as Hans Gruber, a German terrorist and the primary antagonist in the 1988 film "Die Hard." After landing his first major film role, Rickman became known for playing villains including The Sheriff of Nottingham in "Robin Hood: Prince of Thieves," but his biggest role came in 2001 when he portrayed Severus Snape in "Harry Potter and the Sorcerer's Stone."
Alternatively, David Bowie formed his first band in 1962 at the age of 15, and went on to become one of the biggest names in music.
The sudden passing of the two men, who never publicly shared their cancer diagnosis, led to an outpouring of grief by fans and friends on social media in the days following the news. And the grief shared online for both these men is understandable, because beyond their talents in their respective professions, both men excelled at being more than just celebrities. Through Rickman's performances (most notably as Snape) and Bowie's music, both men touched so many lives.
I've been sad for numerous celebrity deaths — Heath Ledger, Robin Williams and Amy Winehouse to name a few — but, Alan Rickman was the first celebrity death I have ever cried about. The talented actor was a massive part of my childhood, as like most other millenials, I was one of the kids who would wait outside Borders for the midnight releases of "Harry Potter," and saw each film in theaters close to 10 times.
Although I've been sad with the deaths of every cast member of the "Harry Potter" films so far (Richard Griffiths who played Vernon Dursley died in 2013, and Richard Harris who originally played Dumbledore died in 2002), Rickman's death was an unendurable heartbreak. Maybe it's because he was the first actor who was in all eight "Harry Potter" films, or maybe it's because he portrayed one of the most complex characters in the series, who appeared to be a villain throughout the series, but really had been dedicating his life to protecting Harry.
Severus Snape became arguably one of the most iconic characters in the massively popular series, and Alan Rickman brought him to life on screen without any flaws in his performance. From his appearance, to his awkward pauses, to the way he angrily told his potions class to turn to "Page 394," Rickman embodied Snape — the character that fans either loved or hated with an intense passion.
It was because of this deeply complex role that Rickman played perfectly that fans were able to feel such a connection to an actor they had never met, something he had in common with Bowie, who also deeply impacted the lives of his fans.
Bowie not only inspired musicians throughout the course of his career in which he released 27 studio albums in 49 years, but his creativity and ability to reinvent himself so many times inspired fans to be themselves.
"Watching him, for me, was a life-changing experience," Fred Armisen of "Portlandia" said on "Saturday Night Live" about watching Bowie perform on the show when he was younger. "He had the backup singers who were like, choir singers from the future and a poodle with a TV monitor in his mouth. David Bowie transformed whatever space he was in, whatever medium he was using."
Beyond his creative influences, though, Bowie's public presence was highly influential for the LGBTQ community, as the performer unabashedly rejected traditional gender roles and any tradition whatsoever in all the work he did.
"Seeing him live such a public, unapologetic life was one of the most important parts of my youth," Katherine DM Clover said in an article for Romper.
Both men were exceptionally talented at what they did, and that was why they were so beloved, but their ability to impact their fans in such emotional ways will be what leaves a lasting memory.