DePaul men's basketball defeats Marquette 57-56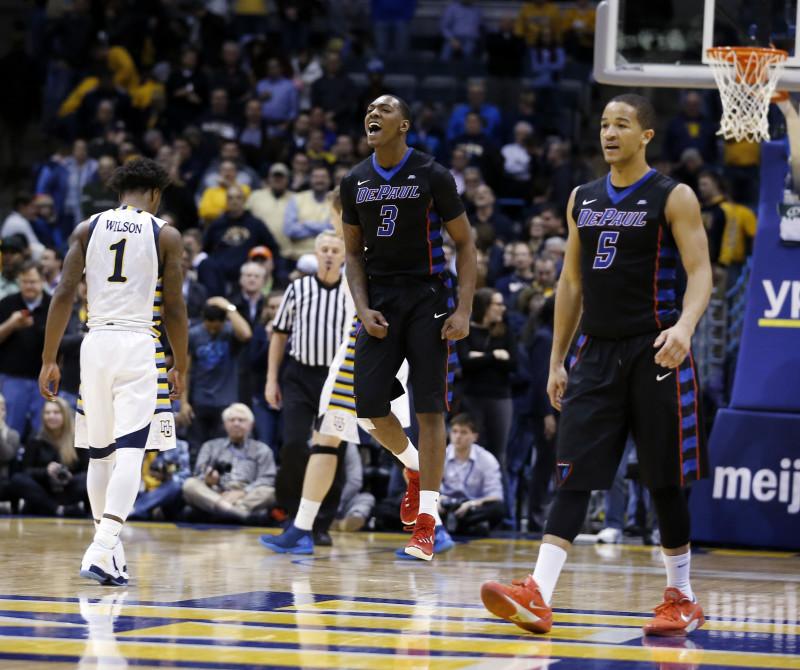 Fresh off their sixth straight loss, DePaul finally got over the hump and earned their first Big East victory of the season in dramatic fashion, a 57-56 win at Marquette.
The Blue Demons (7-12, 1-6 Big East) were led by senior forward Myke Henry's 17 points, followed up by another 14 from junior guard Billy Garrett Jr. Marquette's Duane Wilson led the game with 19 points.
The offense was not flowing for either side in this game. Marquette only shot 48 percent from the field, while DePaul followed by only shooting 39 percent. The two sides only managed to score 48 combined points in the first half, although the Blue Demons were on the better side going into the break. In what would be the first buzzer-beater of the day, sophomore guard RJ Curington hit a three as time expired in the first half to give the Blue Demons a 26-22 lead over Marquette.
The second half was tight as the lead for either side never went to more than five points. The lead switched back and forth and the clock ran down and Marquette had the advantage with eight seconds to go. Wilson knocked in a put back on his own miss to give Marquette a 56-54 lead, which led to a DePaul timeout.
Coming out of it, Garrett drove down the floor and into the lane, putting up a shot that banked in to tie the game and simultaneously fouled, which gave him the opportunity to give DePaul a lead with 1.1 seconds to go. Garrett, who shoots 84 percent from the line this season, hit the shot and DePaul held on for the victory 57-56.