New era reeks of old problems in Leitao's first season back with DePaul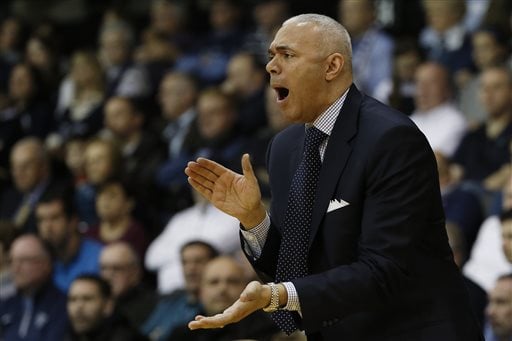 NEW YORK – In the underbelly of Madison Square Garden, with the sounds of the second game of the night going on in the background, three men sit at a table answering questions. The first is an older man, who quietly and carefully gives his opening statement. This is head coach Dave Leitao, and his mood tonight is a far cry from his opening press conference at his hiring.
"Whether you're on board, on the fence or need to be brought on board I dare you to give it a try because we are absolutely going to make you proud," Leitao said back in March 2015. Now he sits at the end of his first season back after a 70-53 loss to Georgetown, and that sentiment could not be farther from the truth.
Next to him is Eli Cain, who stays silent, giving a thousand-yard stare while his coach speaks next to him. He's a freshman who showed a tremendous amount of promise and ability in his first season with the Blue Demons, but that's a story we've seen before, such as in the man sitting next to him, junior Billy Garrett Jr.
Garrett was once proclaimed as the centerpiece of the DePaul comeback, as was Cleveland Melvin before him, as was Dar Tucker before him. Not to discredit Garrett, who had a fine season with 12.6 points per game and 3.6 assists per game, but even he said that he didn't like how he played toward the end. He stares at the table, until he's asked about his season.
"You know, everything is a learning process," Garrett said. "I wouldn't say I was happy about my performance this year. But I mean, there's nothing you can really do about it now. Just got to try and improve."
No team is going to be very talkative after their season just ended – much less in the first round of the Big East tournament – but the contrast between the beginning and end of the season is striking. We were told it was the start of a new era, with Leitao heralding change and progress, as did Oliver Purnell before him, as did Jerry Wainright before him.
Instead, this season was more of the same — like a rerun of a sitcom that should have been cancelled three years ago. DePaul went on losing streaks that they could not snap out of. They were ineffective against zone defenses, and generally inept offensively. The defense, which did start well and led to wins against then No. 20 George Washington and then No. 11 Providence, fell off a cliff and the final numbers ended up worse than in 2014-15.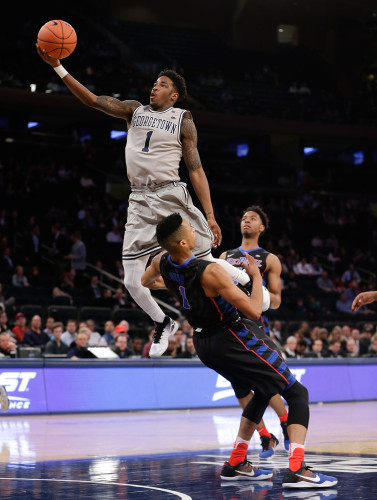 To be fair, their strength of schedule was more difficult. The Big East was better, and their non-conference schedule had names like Stanford, Florida State and Penn State. However, it wasn't the fact that they continued to lose, it was how they really failed to show substantial progress on the court.
It's Leitao's job to sell the positive. He needs his players to buy in, after all.  Leitao, whose favorite cliché is "Rome wasn't built in a day," thought he laid the bricks. But even he sounded disappointed on the lack of progress in his first year.
"I thought whether we were winning games or losing game, for a lot the season, that we were making progress in that way," Leitao said. "That's why we were able to win a couple of games we weren't supposed to win. Somewhere along the line we lost a piece of that."
The Blue Demons' defensive collapse was the most striking. According to advanced statistic website Kenpom.com, DePaul went from no. 154 in the nation in adjusted defensive efficiency per 100 possessions on Feb. 7, to no. 211 at the end of the season. They were no. 228 in 2014-15.  After finishing no. 111 in adjusted offensive efficiency, they dropped to no. 178 in February and were no. 204 a month later. They increased their turnover percentage per 100 possessions from 21.3 to 21.5
Numbers aside, there were times where the Blue Demons simply were unwatchable. They lacked the discipline that Leitao promised to instill.
Leitao's hire was both cozy and a risk at the same time. It was cozy in a way that he had already coached for DePaul and was known by Athletic Director Jean Lenti Ponsetto, who was also in the position during Leitao's first tenure.
But it was also a risk in the way that Leitao had not been a head coach since 2009. What other school was lining up to hire him? The confusing conundrum did not lead to a lot of faith in Leitao when he first began, but through his own personal campaigning, people began to buy in.
Yet after a 9-22 overall record, the hole Leitao promised to dig DePaul out of is now deeper than ever. That is because those that were cautiously optimistic about the new era were so thoroughly let down by the season that Leitao's job to help win them back is now even harder. The team seemed outmatched by many opponents in its own conference, as was the team before them, as was the team before them.
As far as perceptions go, this season was about as big a disaster Leitao and company could have feared. Yes, sometimes rebuilding takes time and it can be the darkest before the dawn, but there was a stark contrast from when Leitao took a 9-19 team of Pat Kennedy's recruits and turned them into a 16-13 NIT team. At times, it looked like Leitao found out how different basketball was in 2016. Yes, the wins against the ranked teams were nice, but it's hard to see the progress in them looking down the barrel of 22 losses in a season.
So fans will wait, again, for next year. Leitao's biggest chance to rebuild the program comes next season. It's the last year at Allstate Arena — the last year to build any excitement for the new arena.
Next year, it'll be Leitao's recruits, such as Chicago native Devin Gage, and bolstered by Algevon Eichelberger and Brandon Cyrus, a pair of teammates. Next year, maybe the pack line defense will stay true to its form the whole season, and maybe Garrett will take that final step to a superstar in his last season with the program. Maybe, just maybe, we'll see a DePaul team on the rise for the first time in a decade.
But if not, then in two years that new arena is going to sit just like Leitao's rhetoric: empty.