Men's basketball gets bigger with recruit Levi Cook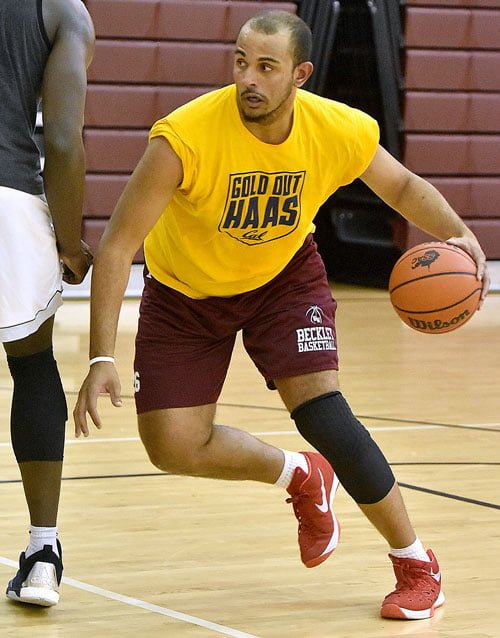 Levi Cook saw an opportunity at DePaul.
He made his verbal commitment on Twitter on Wednesday, the week after it came out that three freshmen forwards, Develle Phillips, Fred Scott and Oumar Barry, would transfer away from the program. This combined with the graduation of senior forward Rashaun Stimage and only one other big man recruit, Al Eichelberger, coming in, Cook saw an opportunity to get substantial playing time.
"I didn't want to go anywhere to sit on the bench," Cook said. "Being able to come in as a freshman and get major minutes is a big upside."
Cook is a big man, who once weighed in at 6-foot-10, 330 pounds. He's down to 280 pounds. now, a result of dieting during an injury recovery.  He tore his ACL in March 2015, before a tournament that Huntington Prep, his high school, was about to participate in a national tournament.
"It felt like a shotgun went off in my leg," he said. "It was really irritating to tear my ACL when the (Dick's Sporting Goods) National Tournament was right around the corner. But since then I've lost 50 pounds and it's really helped me mentally."
The decision to lose weight and become a leaner player came when we was still recovering from the ACL and decided to drop some pounds.
"I was at about 330 when I tore my ACL and I decided I didn't want to be fat anymore," he said. "
Cook has had a long journey with his recruitment. He originally committed to West Virginia, close to home. He played high school ball at Huntington Prep in West Virginia. His commitment came in 2012, when he was a freshman. He de-committed from the Mountaineers two years later and became a sought-after forward. He then tore his ACL, scaring some schools off of him.
Two years later and he has his home. He made his commitment to DePaul as their first signing of the 2016 spring recruiting season. He joins four other incoming players who made their commitments in the fall. Guard Brandon Cyrus and his teammate,Eichelberger, joined Chicago-native point guard Devin Gage in the fall recruiting season. Senior guard Chris Harrison-Docks announced he would transfer to DePaul from Western Kentucky in February.
The decision, Cook said, came down to how he was perceived at DePaul and how he felt when he took his visit in February.
"I just felt really comfortable while I was (at DePaul)," he said. "I found that (the coaches) already have a lot of faith in me."
Cook is a center and self-describes his game as primarily inside the post, but also said he has some other strengths.
"I'm a low-post scorer," he said. "I feel like, for a big man, I have a soft touch. I have a great IQ for the game and I have great leadership skills."
Cook will join DePaul in need of forward depth. Heading into the season, the Blue Demons are led by junior Tommy Hamilton, one of the starters carried over from last season. The other starting spot in the low-post, however, is up for grabs, with senior Peter Ryckbosch, sophomore Joe Hanel, and freshman Eichelberger, all contenders.