Enrollment survey says: Chances are, you went to Lane Tech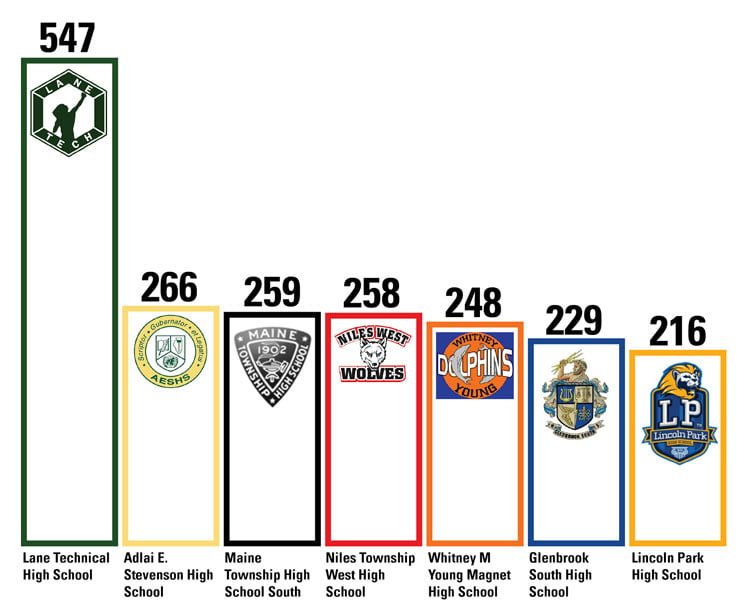 If DePaul's latest marketing campaign touts its 'world ready' education standards, the university's pipeline of students could be appropriately dubbed 'locally based'. Indeed, an analysis of enrollment trends over the past decade shows that DePaul's top feeder schools are by and large in Chicago and its suburbs.
Specifically, the top 10 feeder schools include two CPS selective enrollment schools, a CPS neighborhood school and seven public high schools from the suburbs. The numbers show that while the university has increased its share of out of state students in the last decade, DePaul is still very local in nature.
According to associate vice president of enrollment and marketing management Jon Boeckenstedt, proximity plays a key role in DePaul's appeal as prospective students are pre-exposed to the university.
"For a student in 2015, it's very likely that they know several DePaul students," Boeckenstedt said. "And we'd like to think that what they're hearing is good stuff about what goes on here, and we're also in the City of Chicago among the more welcoming universities for students from the Chicago Public Schools. So there is a strong record of DePaul enrolling students from local areas."
Selective enrollment high school Lane Tech was far and away the top pipeline for the university over the last decade, with nearly 550 students deciding to take their talents to Lincoln Park, just three miles from the high school's massive campus on Addison Street.
Lane college counselor Michael Sarmiento, a DePaul alumni himself, said DePaul's connections to the school are deep, with several teachers and administrators graduating from there.
"The Blue Demons run pretty deep at Lane Tech. When students are asking 'should I go to DePaul or this school?' they ask teachers for this kind of advice, oftentimes, teachers are going to go with the school that they know and that they went to," Sarmiento said. "I think oftentimes too that DePaul is seen as this school that is diverse, also a school that is nurturing and has academic, social, and emotional support for students, I think more so than other Chicago universities. So, it's just seen as a school that holds true to its Vincentian values that I think sometimes unconsciously, students pick up on."
Sarmiento added that in any given year, around half the school's college-bound graduates end up at either DePaul, Loyola, the University of Illinois at Chicago or the University of Illinois at Urbana-Champaign. While many Lane students are looking for engineering and STEM programs, Sarmiento said DePaul provides a solid option for student seeking a close liberal arts option.
"For a number of our students, who wanted to stay close to home or wanted to live at home, whether that's financial reasons or cultural reasons, DePaul is a great option for those students," Sarmiento said.
Freshman Steven Byers, a Lane Tech graduate, is one of those students commuting his first year of college. A resident of Chicago's Northwest Side, the digital cinema major chose DePaul over Columbia College and the School of the Art Institute of Chicago largely due to its diversity and the variety of programs it offers.
"The list of majors is just endless," Byers said. "I really just appreciated that variety because what if my film career didn't work out or if I didn't want to study that? I could maybe go into physics or I can go into English. I just love the diversity at this school."
Byers added that his high school classmates feel a sense of familiarity with DePaul's academic rigor. After all, Lane Tech is consistently ranked in the top tier of schools in the entire state.
"DePaul just seemed like at the time such a school that's focused on academics, as well as Lane," Byers said. "I think they were looking to challenge themselves in a way that DePaul made it seem that you'd be challenged for taking these courses and that they do have expectations for these students."
But Lane students were not the only ones staying close to home. In fact, most of DePaul's top feeder schools are in the city or suburbs. Between 2006 and 2015, other schools that topped 200 students were Adlai E. Stevenson High School in Lincolnshire, Maine Township South in Park Ridge, Niles Township West in Skokie, Whitney M. Young Magnet High School on the Near West Side, Glenbrook South High School in Glenview, Lincoln Park High School, Lyons Township High School in La Grange and New Trier High School in Winnetka.
Boeckenstedt said that the outsized number of students from Chicago area institutions could be attributed to the relatively large size of high schools in the region and the different perspective a local student may have versus someone from another state or country. For instance, local students applying to DePaul likely are only looking in the region whereas applicants from out of state are casting a wider net, he said.
"When we're talking to students locally, we don't need to talk about the City of Chicago, for instance, because students know that and understand that," Boeckenstedt said. "What we talk about with local students is how the City of Chicago is an integral part of a DePaul education."
He added, "for someone from Los Angeles or New York or Montana or Florida, it's more about answering questions about snow, for instance. Or how what they see on the television about Chicago might not be the reality in Lincoln Park."
From 2006 to 2015, the share of out of state students has gone up from 18.1 percent to 23.7 percent with the largest out of state contingents coming from California, Michigan, Ohio and Wisconsin. Californians in particular have significantly upped their presence, with more than 100 additional freshmen coming from the Golden State than in 2006.
Boeckenstedt said the collection of all this market data by DePaul helps them in their efforts to recruit pipelines as well as look for new markets to explore.
"We do research on it, we do analysis on it, we like to see if there are trends from one year to the next," Boeckenstedt said. "Not so much in Illinois, but when we're traveling out of state, we like to make sure that our counselors visit the schools that are sending us students. And maybe visit the schools that haven't sent us students in a while."