DePaul is getting better, but so is the Big East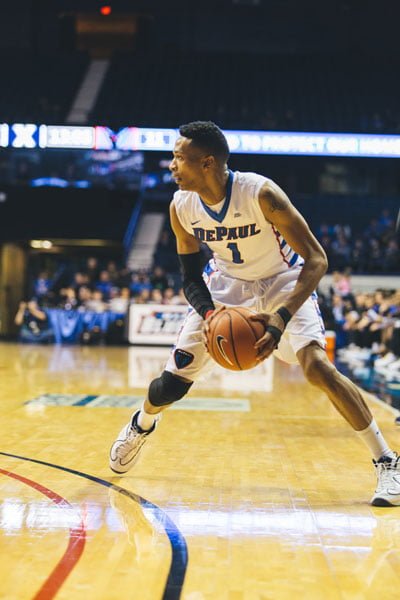 DePaul men's basketball is going through a transformation. Head coach Dave Leitao will enter his second season back at DePaul with six new players, as well as a redshirt sophomore who will not be eligible this season.
The recruiting class for 2016 has been one of the better ones in recent memory. Highlighted by Curie point guard Devin Gage and Huntington Prep forward Levi Cook, DePaul's recruiting class has four solid players. Guard Brandon Cyrus and forward Al Eichelberger have played with each other in high school and have developed a rapport.
These new recruits are bolstered by transfers. DePaul will get one year out of senior sharp-shooter Chris Harrison-Docks, and two years out of junior college transfer Tre'Darius McCallum, who could very well be the starting small forward on opening night.
It's a sense of progress from a program that hasn't shown a lot. They finished with less than 10 wins in 2015-16 and were unable to break through losing streaks. They did beat two top-25 teams, but the program will only have a perception of progress to average fans after they are able to show it in wins.
Where the recruits show a step forward for Leitao, they may not translate into a substantial turnaround, at least not immediately. DePaul may be a few wins better next year, but the problem is that their competition is getting harder.
DePaul finished ninth in the Big East in 2015-16. The only team that finished below them was St. John's, which had a miserable first year under new head coach Chris Mullin. That does not seem like it will last, however. They have picked up three four-star recruits this season and have the No. 21 recruiting class in the country, according to 247sports.com. Marquette, which finished seventh in the conference last season, has the No. 16 recruiting class and also picked up three four-star recruits.
Once the players get on the court, how many stars they were assigned based on recruiting analysis won't matter that much, but the bottom half of the Big East is bolstering themselves and may leave DePaul behind.
This is to say nothing of the top teams from last year's Big East. Villanova returns as the reigning national champions and has five-star power forward Omari Spellman. Xavier, who finished second in the conference last season, is bolstered for the future with two four-star recruits. Creighton, which was last in the Big East in recruiting according to 247sports.com, was sent a lifeline when they received news that Maurice Watson Jr., who averaged 14.1 points per game last season, will return for his senior season, giving their back court a huge boost.
The only school that looks to be on a downward trend going into next season is Georgetown, which will have to rely on their 2015 class that had three four-star recruits, to carry them into a lean recruiting year in 2016, when they've only picked up one rated recruit. Providence won't have Kris Dunn next year and will likely take a bit of a downturn, but they will still be solid with Ben Bentil and his 21.1 points per game average.
It is unfortunate for DePaul that they will be making progress in a year when the Big East continues to get tougher. The Big East is one of the best basketball conferences in the country.
This isn't to take away from the work that Leitao and his staff have done this recruiting season. A team full of his players and upgrades for the future will make the team better. It just might not translate to wins in the conference because the rest of the Big East is strong, and is continuing to get stronger.