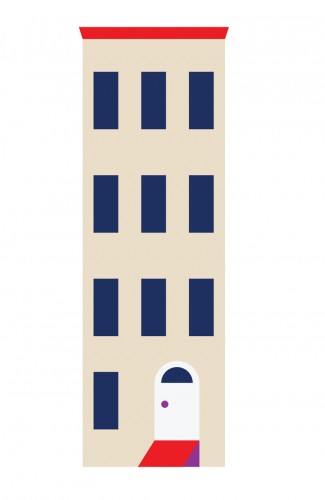 Airbnb, the website that offers short-term rentals, has often been a way to find a place to stay for prospective students and their parents visiting DePaul or for current students wanting a space to have an exciting weekend  with friends. Compared to traditional hotels, Airbnb apartments and houses are cheaper and can be closer to attractions outside the hotel-crowded downtown. 
But many Chicagoans have raised their voices in opposition to Airbnb because the business is mostly unregulated — akin to Uber taxis — and many Airbnb rentals are not lived in by owners, which has led to "ghost hotels" that are sites of wild tourists who are detrimental to a neighborhood's community vibe.
Right now the city's aldermen are debating if Airbnb should be more regulated, but they have come to something of a compromise  that awaits the approval of the full City Council.
The compromised regulation plans to limit rentals to one unit in a two- to four-unit apartment and six units or a quarter of all units in high-rise buildings. Homes owned by families can be rented only if the owner lives in the house.
Mayor Rahm Emanuel, traditionally an advocate for businesses, has called for a four percent tax increase on Airbnb rentals on top of the 4.6 percent Airbnb renters already pay. The mayor says this extra tax can be used to fund organizations that help the city's homeless, organizations that of late have been strapped for cash amid the budget impasse in Springfield. 
Together, these measures are an attempt to limit the concentration of the tourist atmosphere in neighborhoods while still providing much-needed taxes for the city.
"We are going to continue to move forward and make the steps necessary to protect our neighborhoods and our communities — to invest in finding a new revenue source for our homelessness — and make sure what is an emerging industry without any oversight, gets the right oversight that it needs," Emanuel said on May 18.
What is still in limbo is the amount of days per year Airbnbs can be rented. Initially Emanuel supported a 90-day-a-year cap in which renters would only have to register with the city — no license required. But now, the mayor has removed the 90-day limit in favor of all Airbnb renters to simply register with the city. This move can be seen as a blessing for the creation of more Airbnbs in neighborhoods while still taxing those that are registered.
One of the chief advocates for increased regulation of Airbnb rentals is Ald. Michele Smith, of the 43rd Ward, where DePaul University is located.
"While the current draft allows larger buildings to ban STR (short-term rental) listings in a condominium, co-op, homeowner's association or rental building of more than five units, the law would do little to curb the proliferation of these units on our residential streets in this Ward," Smith said in a statement last week.
Today, there are 5,100 Airbnb listings in the city, according to Smith. Six hundred of these are located in Lincoln Park and the Gold Coast, in which 400 do not have licenses to rent. Of the listings in the 43rd Ward, 70 percent of Airbnb listings are not occupied by the owner.
In 2011, the city passed regulations that require Chicago residents to have a vacation-rental license to rent out their homes through Airbnb and similar services.
But oftentimes as not these regulations are not enforced, according to Marc Gordon, CEO of Illinois Hotel and Lodging Association (IHLA). According to AHLA, a Washington-based research organization, most Airbnb renters are businesspeople who rent multiple apartments, not homeowners who are renting for some extra cash.
Airbnb countered that AHLA and IHLA are connected to Chicago's hotel industry, whose businesses are threatened by the cheap and numerous Airbnb's. Chicago hotels are especially concerned by tax regulations on Airbnb's. Currently, hotels pay 16.4 percent tax, while Airbnb renters pay 4.6 percent.
For one DePaul student, Austin DeFrancesco, who is a freshman studying Information Assurance and Security Engineering, Airbnb's do not harm a neighborhood's community atmosphere.
DeFrancesco and seven friends plan to stay in an Airbnb in Lincoln Park, from which they will go to the Lollapalooza music festival in Grant Park. They made this choice, he said, because the Airbnb is cheaper than a hotel.
"It's nice because you have the house to yourself, unlike a hotel," DeFrancesco said. "You literally own the whole house. You can use anything."
And while Airbnbs sometimes get trashed by their guests, that doesn't mean the neighborhood is worse off because of it.
"I don't think bed and breakfasts' really lower the value or home of a community, like Lincoln Park," he said, referring to Airbnbs namesake.
While the compromised ordinance that will add new regulations to Airbnb has passed some City Council committees, it still requires the approval from the full City Council. The final vote is scheduled to be in June.