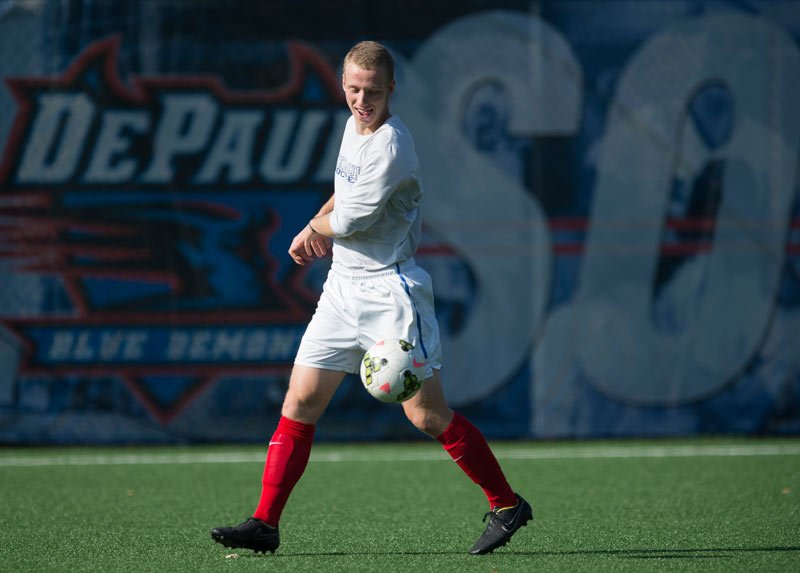 After a 5-13-1 season last year where the DePaul men's soccer team won four of its five games in the final stretch, the team is looking forward to another season of improvement.
With their spring games wrapped up, the players can focus on training throughout the summer and make sure they are fully prepared for the 2016-17 season.
"I think we're pretty happy with the spring (games)," junior midfielder Kevin Beyer said. "We're training a lot more when we have games, so training has been getting better throughout the year and the games can't all go the way we wanted. But it's a good learning experience for some of the young guys."
Though Beyer said the games can't all go DePaul's way, one game did, and it was by far the most impressive win of the spring season in junior forward Erik Rodriguez's eyes.
"Definitely the Northwestern game when we beat them 5-1," Rodriguez said. "A lot of good ideas happened in that game and a lot of great execution as well. We got our chances and we put every chance away and that's what it's all about in this game."
From Beyer's perspective in midfield, he said the team has improved a lot technically and tactically throughout the spring games. He said people are getting more used to their positions on the field and where they should be at all times.
"Speed of play (too). They're getting used to the game and they're back with us," Beyer said. "It's good to have the young guys get a little more used to it because we have a lot of young kids and we're going to have more coming in next fall."
Rodriguez said the overall flow in the offensive third has improved dramatically.
"Checking in from the forwards, playing it out wide, making runs in for the crosses from the wingers," Rodriguez said. "I think the offensive movements definitely have been an improvement."
With a number of younger players on the team and not as much senior leadership, it's going to be an adjusting period for the team as a whole. Coach Craig Blazer said the collaboration between the players and coaching staff is vital to the team's success, and it feels like they've really improved since last season ended.
Another positive moving forward into next season is the fact his players are willing to do whatever it takes just to play.
"We had to change some positions," Blazer said. "The guys who are very coachable in that first question, 'Do you want to play right back? Can we move you to holding mid?' … all of these guys are just excited to get on the field because they know it's a good group."
Though the senior leadership may be lacking in numbers, Blazer said the core of Beyer, Rodriguez and Simon Megally, along with goalkeeper Quentin Low, are great role models for the younger players.
"They are guys who have played; they are guys who show a very good example of what it's like to play in the Big East and now playing successfully," Blazer said. "The younger guys coming in, they have the athleticism that we're looking for, so it's a good combination. They want to make improvements so we have a good fall; they're excited about it."
To say Beyer and Rodriguez are excited about their senior season would be an understatement. They both understand the team's goal of reaching the Big East tournament again and hope to be able to win a game or two in a very difficult soccer conference. As for their individual goals for next season, Rodriguez is very straightforward.
"If I could get a goal every two games … 10 goals throughout the season, I'd be very happy with that," Rodriguez said.
Beyer, however, is a bit more lighthearted. "I just want to enjoy the time that I have here," Beyer said.
With a solid core of sophomores and juniors, coupled with a strong incoming crop of freshmen, the Blue Demons might finally be pointing upwards for seasons to come.