Tommy Hamilton not returning to DePaul men's basketball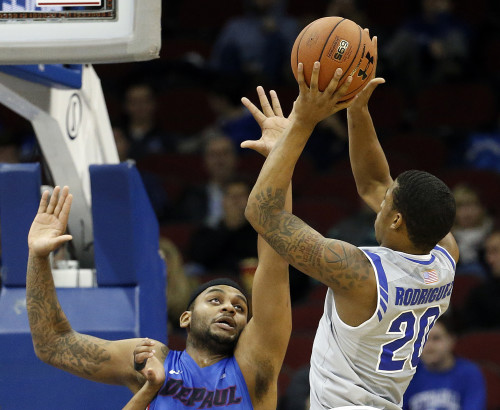 A report came out Wednesday morning that senior DePaul men's basketball forward Tommy Hamilton IV would not return to DePaul for the 2016-17 season.
Tommy Hamilton will not return to DePaul's basketball program next year, source told @CBSSports. Plans for next season are TBD.

— Jon Rothstein (@JonRothstein) June 22, 2016
This was confirmed by the University in a press release.
Hamilton's departure is a big loss for the Blue Demons' front court. He had the ability to stretch the floor and shoot from deep as well as inside. He averaged 8.8 points per game and started 16 games. The loss becomes more clear in terms of roster spots, where the Blue Demons are thin.
This leaves DePaul with only five forwards heading into the 2016-17 season, three of which are walk-ons. Freshmen Al Eichelberger and Levi Cook are bound to get significant playing time, while walk-on senior Peter Ryckbosch will be a starting option as well. He started seven games in 2015-16.
A couple of reported roster moves not confirmed include the additions of Tre'Darius McCallum and Austin Grandstaff, which would have put DePaul over the scholarship limit of 13. The loss of Hamilton would put DePaul even at 13.