Clinton hits Springfield, addresses 'a house divided'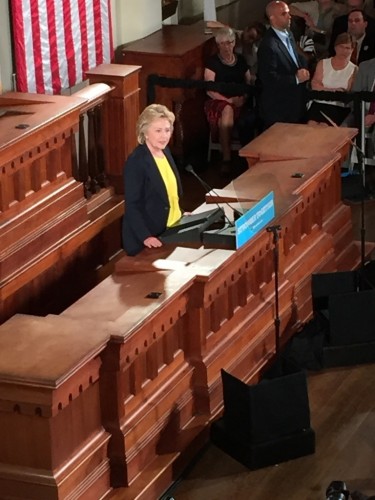 SPRINGFIELD, Ill. – In the place Abraham Lincoln spoke to a house divided and where Barack Obama began his historic run to the White House, presumptive Democratic presidential nominee Hillary Clinton told a nation divided on issues surrounding race that "we need to listen" and "put ourselves in the shoes" of those with different backgrounds.
Clinton, draped by American flags in the cozy chambers of the Old Illinois State Capitol Building, invoked the nation's sixteenth president several times as she sought to strike a unifying tone in wake of economic pressure, the attack on police in Dallas, police shootings of black men and other issues weighing on the minds of Americans.
"Despite our best efforts and highest hopes, America's long struggle with race is far from finished. In just the past week, we saw black men killed by police and five police officers killed by a sniper targeting white police," Clinton said. "There is too much violence and hate in our country. Too little trust and common ground. It can feel impossible to have the conversations we need to have, to fix what's broken."
In order to bridge that divide, Clinton said Americans would have to take "a hard look at our laws and our attitudes" and embrace "policies that promote justice for all people."
"I believe that our future peace and prosperity depends on whether we meet this moment with honesty and courage," Clinton said.
Clinton acknowledged the role politics has played in the divisiveness, even recognizing her own role in it.
"I cannot stand here and claim that my words and actions haven't sometimes fueled the partisanship that often stands in the way of progress," Clinton said. "So I recognize I have to do better too."
But Clinton said that much of the problems today are exacerbated by the economic anxieties facing many Americans and said that the problems that must be tackled are not and should not be mutually exclusive. To that end, the former secretary of state called for criminal justice reform and gun reform, laid out plans to put Americans back to work and, invoking the words of Dallas police chief David Brown, urged regular Americans to do more to help overcome systemic racism.
While acknowledging that her comments might upset some, especially in the wake of an attack on police, Clinton said "all these things can be true at the same time."
"I'm running for President with the belief that we need to face up to these challenges and fix them in order to become a stronger, fairer country," Clinton said. "And in times like these, we need a President who can help pull us together, not split us apart."
With that, after not mentioning his name the first 15 minutes of her speech, Clinton pivoted to attacking presumptive GOP presidential nominee Donald Trump, describing him as "dangerous" and "divisive" and eviscerating him for everything from his comments about Muslims and Mexicans to "his contempt for and ignorance of our Constitution."
'Imagine if he had not just Twitter and cable news to go after his critics and opponents, but also the IRS – or for that matter, our entire military," Clinton said. "Given what we have seen and heard, do any of us think he'd be restrained?"
Clinton also expressed concerns about Trump's comments on national security and his lack of knowledge of the Constitution.
"The first thing a new President does is take an oath to 'protect and defend' the Constitution," Clinton said. "To do that with any meaning, you've got to know what's in it. And you've got to respect what's in it."
And in another nod to the setting, Clinton lamented where the Republican Party has gone with Trump.
"This man is the nominee of the Party of Lincoln. We are watching it become the Party of Trump. And that's not just a huge loss for our democracy – it is a threat to it," Clinton said.
In closing, Clinton urged Americans to "put ourselves in the shoes" of different groups, including African Americans, Latinos, police officers, and, yes, even Trump supporters.
The speech, which lasted around 30 minutes, was much different than typical campaign events. There were no speakers before Clinton, the audience was invitation-only and the tone was more serious than exuberant.
Clinton enters. No speakers before to introduce her. pic.twitter.com/cx5v4pCXqO

— Brenden Moore (@brendenmoore13) July 13, 2016
Reaction from the invitation-only audience was overwhelmingly positive. William Potts, the legislative director for the Service Employees International Union local 73, appreciated the tone and the comments about police officers.
"It came from the heart. It wasn't a stump speech, it wasn't a political speech," Potts said. "It was what's going on in our country and around the world. What happens to us here affects everything around the world.
"And what touched home was when she talked about the police officers that leave home every night and the families don't know if they're coming home or not. That's true," Potts said. "And those police officers that were shot in Dallas, Texas, they were protecting the people that were peacefully demonstrating."
Stephanie Cann, a principal from downstate Edwardsville, was drawn to the connections to Lincoln and Clinton's composure.
"She's so composed," Cann said. "We need someone who can keep that composure in the times we're facing now."
Clinton would later attend a high dollar fundraiser in north suburban-Wilmette.