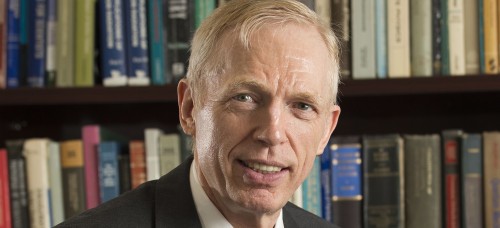 Provost Martin denBoer released  an email to faculty and staff on July 13 detailing a number of personnel changes to take place this year in Academic Affairs after now having been on the job for one year.  The department's purpose is improve academic, teaching and scholarly quality, and denBoer hopes in the email that the changes will "increase focus, enhance impact, and gain efficiencies in Academic Affairs."
"The changes were prompted by the fact that, having now been at DePaul for a full year and having had the chance to review a full annual academic cycle, I saw possibilities to modify the structure and operations to increase effectiveness and reduce costs," deBoer said.
Most prevalent of the switches at the department is senior associate vice president for academic business management. Occupant Ralph Erber, who has served since 2011, will step down. He will return to teaching as a professor in the department of psychology.
In his place comes Alyssa Kupka, whose job will to be responsible for "academic space and scheduling" and for faculty affairs, according to the email.  She will also be in charge of academic business affairs, and will continue to manage the office of Academic Fiscal Administration — her old job.
The special assistant to the provost for health initiatives Kay Thurn plans to retire from DePaul. Before, she served as the chair of the department of nursing.
Current associate dean in the college of science of health Phil Funk will now take on the responsibilities of associate vice president for health programs in Academic Affairs. In this capacity the email says that he will work with Kupka and associate vice president for marketing strategy Verna Donovan to "coordinate health initiatives."
Since 2009, Robert Karpinski has been in charge of DePaul's collaboration with DePaul Prep and its endeavors with the Archdiocese of Chicago. Karpinski will keep his old responsibilities, but will transfer from the department of Enrollment Management and Marking to the department of Academic Affairs. He will gain the title of associate vice president for academic initiatives as well as new obligations that come will the job.
In addition to working as the dean of The Theatre School, John Culbert has since 2010 served as special assistant for contingent faculty in Academic Affairs. In order for Culbert to have the time for his principal job, he will no longer hold the position as special assistant, according to the email.
Associate vice president for academic administration Kelly Johnson will now leave her position at DePaul. Since her time working at the university, Johnson has served seven provosts, the email said.
Johnson's old duties will now be split between the Office of Mission and Values, Kupka and a newly created position called associate provost for academic programs and planning. The responsibility of this job will be to coordinate the "development of new academic programs," among other duties.
The position of associate vice president for research is still vacant, denBoer wrote in the email, but he will continue to look for candidates this fall. Associate provost for academic governance and integrity Lawrence Hamer will also serve as interim associate vice president for research until the position is filled.
"I believe these changes in Academic Affairs will enable us to carry out our mission as educators even more effectively," denBoer wrote in the email. "I look forward to continuing our work in the next academic year."