Men's basketball learns 2017 conference schedule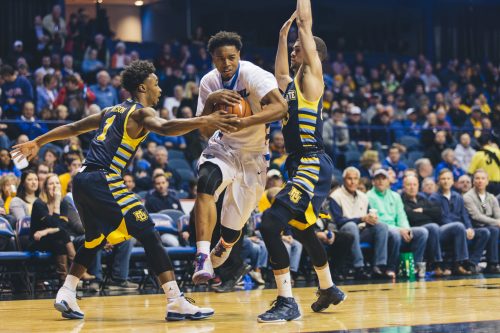 The Big East conference announced its 2016-17 men's basketball schedule on Tuesday, giving DePaul full knowledge of their season's schedule.
They'll start off the conference slate with a trip to reigning national champions Villanova on Dec. 28. DePaul then has its conference home opener on New Years Day at 1 p.m. at Allstate Arena.
The Blue Demons will make the trip to rival Marquette on Jan. 14 before hosting the Golden Eagles on Feb. 4.
Villanova comes to Chicago on Monday, Feb. 13 for an 8 p.m. start.
The Big East will be having a Martin Luther King Day marathon on Jan. 16 and DePaul will play at St. John's that day at 3:30 p.m.
DePaul will close out their regular season on March 4 as they host Xavier at Allstate Arena on Senior Day. After that, they head to New York to play in the Big East tournament at Madison Square Garden.
DePaul opens up their non-conference season on Nov. 4 with an exhbition against Rockhurst at McGrath-Phillips Arena. They will then start their regular season with an on-campus home game against Robert Morris.
The Blue Demons went 9-22 overall last season and went 3-15 in their Big East schedule during head coach Dave Leitao's first season back at DePaul. They have six new on-court players this season.