Public Safety hosted the Safety Fair at Loop and Lincoln Park campuses last week to offer advice for DePaul community members in case they find themselves in a range of emergencies.
At the fair in the Lincoln Park campus Student Center, an array of stations were set up, overseen by organizations such as Public Safety, DePaul's Housing Services, Student Affairs, the DePaul Red Cross Club and DePaul Campus Recreation.
Broadly, the groups encouraged students, faculty and staff to say informed using apps, websites and pamphlets, participate in support groups and take classes to learn new skills. Both fairs were a part of National Preparedness Month, a government initiative to help citizens prepare themselves for emergencies.
Public Safety is trying to get the word out that members of the community need to be ready for any emergency, said assistant director of emergency management Cheryl Hover at their table.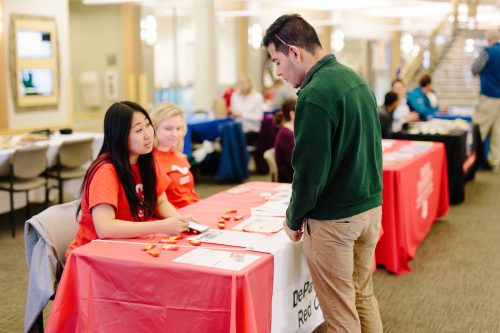 "Public Safety tries to make sure what we're prepared and we can respond as a university," she said. "But it's really important that faculty, staff and students know what to do during an emergency, because if they know what to do it makes our jobs a lot easier."
The materials Public Safety presented encouraged students to sign up for the DPU Alert, which calls, texts and emails users about emergencies on campus. Students can sign up for the alert by logging in on Campus Connect and select Self Service, Personal Information and then DPU Alert.
Public Safety's pamphlets also reminded students what to do in case of particular emergencies. If an alarm sounds, Public Safety recommends everyone on campus to know of at least two stairwell exits; to leave immediately and forgo personal items; to not use one's phone or elevators during evacuation;  and to never open hot doors or prop open any doors.
In case of an active shooter on campus, Public Safety recommends students to enter the nearest room and lock the door, close shades and windows, keep phones on silent and stay put until Public Safety or the police say otherwise.
"Everything that is happening, not only in Chicago but nationwide, internationally, there's events going on, there's active shooters everywhere, and no one place is safe from that," Hover said. "Even though DePaul is a safe campus, part of a safe area, you still have to be prepared and have to be ready."
DePaul's Housing Services made similar recommendations. For students who find themselves trapped in their dormitory room during a fire, they suggest closing the door and placing a piece of clothing at its bottom, opening the window and hanging an object outside of it if there is no smoke, and calling 911.
Such fires in campus dormitories are often caused by unsafe cooking habits, said Eric Musselman, facilities project manager at Housing Services.
"We want to promote safe cooking habits," Musselman said. "Cooking fires are the number one cause of fires in resident halls, and we can easily avoid them through safe practices."
Starting a few years ago, Housing Services places pamphlets on dorm door handles of the nearly 2,500 students who live on Lincoln Park campus. These pamphlets explain emergency procedures and how to avoid starting a fire in the first place.
According to the pamphlet, a variety of objects that can start fires are prohibited in the dorms: refrigerator units exceeding 4.8 cubic feet; extension cords, strings of decorative lights or outlet adaptors; halogen lamps, bulbs or candles; microwaves exceeding 900 watts and no more than one microwave per room; and electrical appliances lacking a "UL Certified" label.
As a further precaution, this year Housing Services installed in every dorm kitchen a device called Cook Stop. This small box is attached to ovens and stoves, and turns off using a motion sensor when the user walks away for 15 minutes.
So far, there have been no fires at DePaul's dormitories, Musselman said.  But they do happen elsewhere.
From 2009 to 2013, fire departments responded to about 3,800 fires in dormitories and sorority and fraternity houses, according National Fire Protection Association.
During that same period, 86 percent of the reported fires involved cooking equipment.
And from 2000 to 2015, 89 different fires killed 126 people on college campuses, in Greek housing or within three miles from campus.
"We just want to be proactive in educating students on safety," Musselman said.  "Not only here at DePaul, but once they leave the residence hall and they live on their own."
DePaul's department of Health Promotion and Wellness hosted a table to inform students of their mission to provide education, support and resources to students who are experiencing sexual violence or issues with tobacco, alcohol and drugs.
"There's so many resources on campus, but sometimes it can be hard to know what you have available for you," said Hannah Retzkin, the sexual and relationship violence prevention specialist at Health Promotion and Wellness.
"We get students who are experiencing these issues themselves or they are have friends who are worried about their friends," she said. "We get a fair amount of students every quarter who are seeking help and support."
At the DePaul Red Cross Club's table, president of the club and student Lauren Sutfin promoted the use of the American Red Cross's collection of apps called First Aid.
"There's a lot of really cool emergency apps, things like first aid and tornadoes," Sutfin said.
Students can download apps that notify of upcoming blood drives and nearby shelters in case of a natural disaster or similar circumstances.
Sutfin also recommended students attend DePaul Red Cross Club's next meeting on Oct. 3 at 7 p.m.
"It's a really different way of giving back to the community, providing resources to people who would otherwise wouldn't get them," she said.
DePaul Campus Recreation's table showcased a variety of materials about activities students can get involved in at the Ray Meyer Fitness and Recreation Center, also called The Rec. Most important of these were its impact self-defense workshop on Oct. 14 for $10 and CPR and AED training, said Rees Grant, assistant director of facilities at Campus Recreation.
"Our number one priority for our students, faculty and staff is their safety," Grant said. "In regards to The Rec, we have a lot of people in there at one time, a lot of programs, a lot of activity. Some of the activities have risks associated with them, so it's really important to promote safety."
The impact self-defense class is important, Grant said, because "different problems can arise, and I think this will be very informative as far as allowing people to distinguish between harmless behavior and potentially harmful behavior."
CPR and AED, on the other hand, are required for some occupations, but they can also be "important for people who don't necessarily require it for a job to have it," Grant said.
"It's a good life-saving skill, although you wouldn't need it on a day-to-day basis."