Duckworth reports $4.1 million third quarter haul, polls ahead of Kirk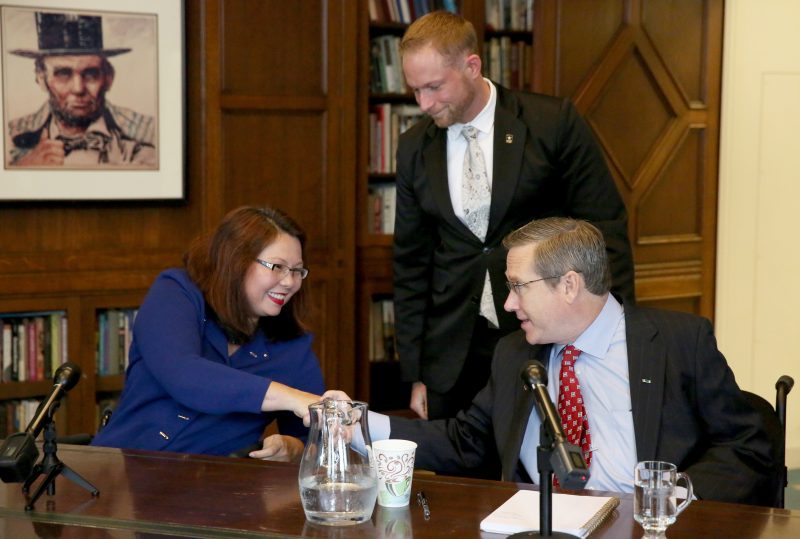 Rep. Tammy Duckworth's campaign for U.S. Senate raised a solid $4.1 million in the third fundraising quarter, the campaign announced Thursday.
The number caps a good week for the campaign, which saw a slew of polls showing Duckworth comfortably ahead of her opponent, incumbent Sen. Mark Kirk.
"This was by far our campaign's strongest quarter, and as we near the final weeks of the election, we are encouraged to see our grassroots supporter base continue to expand all across the state," campaign manager Kaitlin Fahey said.
Duckworth now has $4.3 million in her war chest. While Kirk's team has not released their latest fundraising numbers, Duckworth had a steady cash advantage at the time of the last report.
Despite Illinois being the top pickup opportunity for Democrats, the race has been surprisingly low-key. Many national Democrats and Republicans have privately concluded for months that the race may be firmly in the Democratic column.
Kirk was elected to the upper chamber in 2010 after more than a decade representing Chicago's North Shore in Congress. Kirk benefited that year from a Republican wave election as well as a Democratic opponent who faced significant ethical questions. Even then, he only won by less than two percentage points.
DePaul political science professor Zach Cook said it is not impossible for Republicans to win statewide in Illinois. He points to Kirk's win in 2010 and Gov. Bruce Rauner's victory in 2014. But, to be competitive, he said they must moderate their positions.
"The way you compete in Illinois as a Republican at the statewide level is you downplay the 'social issues'," Cook said. "You don't run as a social conservative, you minimize those kinds of issues and you also insulate yourself from the national Republican Party in D.C."
Kirk has done that to an extent. He was the second GOP senator to come out in favor of marriage equality, he is pro-choice, pro-gun control and has disavowed Donald Trump.
But, he still faces significant headwinds "running against a different electorate" than he did six years ago.
"In a presidential year, you tend to see higher turnout from groups that traditionally vote Democratic, and so that's what Kirk is swimming against this year that neither he nor Rauner had to face in the past."
Duckworth, a strong supporter of Democratic presidential nominee Hillary Clinton, stands to benefit from those coattails. While being dogged by a workplace lawsuit from her days running the Illinois Veterans Administration, Duckworth appears to be breaking away from Kirk in recent polls. The most recent, a Simon/SIU poll, found Duckworth leading Kirk 48 to 34 percent.
For Kirk to win, according to Cook, he will have to significantly outperform Trump in suburban Cook County and the Collar Counties. With FiveThirtyEight currently projecting a 55-39 percent Clinton victory over Trump in Illinois, that may be a tall order.
However, Kirk has run against headwinds before. Representing one of the most Democratic congressional districts held by a Republican, Kirk had a knack for beating the odds. In 2008, he won 53 percent in a district President Barack Obama carried with 63 percent.
But the incumbent is running out of time. With a little over a month left, Duckworth has the upper hand.