Mart'e Grays to miss 2016-17 season
DePaul Athletics announced on Tuesday junior forward Mart'e Grays will miss the upcoming women's basketball season with a torn achilles.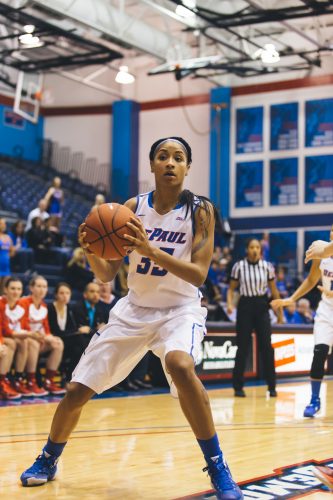 "Losing players to injury is one of the only bad aspects of coaching," head coach Doug Bruno said in the press release. "All of us in the DePaul program – both coaches and teammates – really feel for Mart'e."
Grays, 6-feet-2 inches, was a potential starter for the Blue Demons in the post, and the Blue Demons' lack of size is emphasized with the loss of 6-foot-2 Grays for the season. Alongside 2015-16 starter senior Jacqui Grant, the Blue Demons only have two other forwards on the roster: junior Meri Bennett-Swanson, who averaged four minutes per game last season, and 6-foot-1 inch freshman Chante Stonewall. Freshman Claire McMahon is listed as a guard, but comes in at 6-feet-1 inches as well.
Grays played in all 36 games in 2015-16 and started seven of them. She averaged 15.3 minutes per game with 5.9 points and 3.7 rebounds.
DePaul was going to be a small team this season with only four forwards on the roster after senior Brandi Harvey-Carr and sophomore Elri Liebenberg transferred, but the loss of Grays compounds that further.
The Blue Demons return three starters from their run to the 2016 Sweet Sixteen: senior guard Jessica January, senior guard Brooke Schulte and senior foward Jacqui Grant. They open up the season on Nov. 1 with an exhibtion game.