Transfers look to make immediate impact for men's basketball
In an offseason that saw three freshmen and one junior transfer away from the program, two upperclassmen transfers have been the return: Junior Tre'Darius McCallum and graduate student Chris Harrison-Docks.
And their impact might have to be immediate.
"One of the greatest things a team can have is experience," men's basketball head coach Dave Leitao said. "These guys have been around basketball for a couple of years. That means something. Regardless if the ball's going in the basket or not, I think their presence means a lot."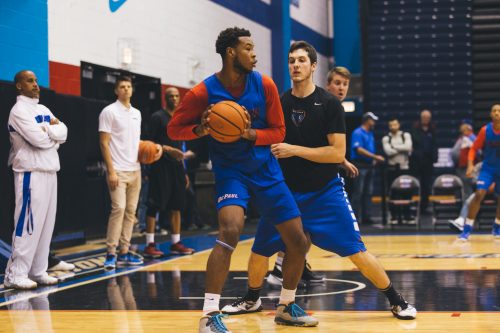 McCallum comes to DePaul after playing at Indian Hills Community College. He averaged 11.8 points per game and 6.3 rebounds per game last season. Chris Harrison-Docks is a graduate transfer who can play either guard spot and transferred after playing three seasons at Western Kentucky. He has one more year of eligibility, and averaged 10.2 points per game in 11 games with the Hilltoppers.
Both players know they're coming in to a team looking for experience, so both are ready to step up to what is needed for the team.
"I'll do whatever the coaches ask me," Harrison Docks said. "Whether that's playing 35 minutes and playing a lot or 10 minutes a game. At this point in my career it's all about winning and being successful."
Both could potentially jump in to a starting role, especially McCallum because his versatility allows him to play multiple positions.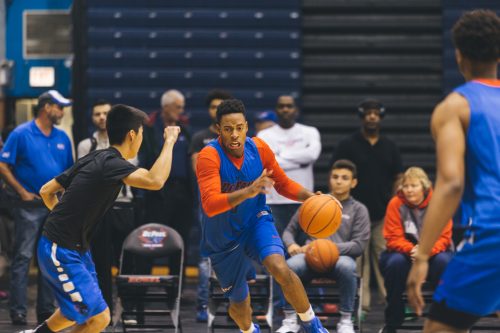 "(I'm looking for) an immediate impact," McCallum said. "Whether that be scoring, rebounding, playing defense. Whatever it is, whatever the coaches need me to do is what I'm trying to do."
They come in to a program on the verge of culture change. 2016-17 is the last season at Allstate Arena before the Blue Demons move to their new downtown arena. Harrison-Docks said he understand his role in the process.
"(I'm trying to be) a veteran with experience," Harrison-Docks said. "We're trying to change the culture here and I think we're taking the right steps. We'll have a better year, better chemistry."
With six new players on this year's roster, and two more ineligible transfers sitting out this season, the team will have to develop chemistry quickly to be ready for the season to start. However, both players feel like the team is coming together.
"We got a lot of freshmen coming in and a lot of transfers as well," McCallum said. "At first it was a shaky start but as the summer went on and the workouts went on, we got that chemistry going, just waiting for a good year."
For the transfers, they'll both have to adjust to playing Big East levels of basketball as well. Harrison-Docks originally committed to Butler but announced he would transfer before he played a regular season game in 2012, so he feels ready to be back at a high level.
"It wasn't too much of an adjustment," Harrison-Docks said. "I went to Butler straight out of high school so I've played at high levels so it was just getting back into shape. After the first week in the summer I've been back to normal."
Leitao said chemistry is still something the team will need to work on going in to the season, but he feels confident, especially in McCallum and Harrison-Docks.
"It's been a learning process but I think their age is starting to show in that regard," Leitao said. "They're more able to handle certain situations, particularly adversity. It's been good."